UC Davis chancellor lays out growth vision under '21st century' plan
---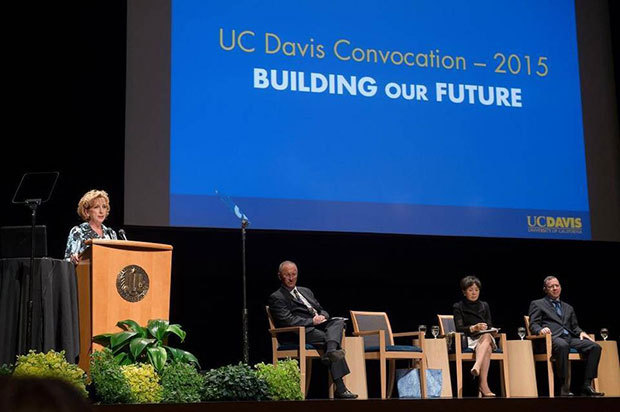 By Diana Lambert
UC Davis plans to build graduate programs in downtown Sacramento and a new veterinary hospital on its main campus as part of its "University of the 21st Century" plan, which includes an estimated $2 billion in construction projects, university officials announced Tuesday.
"As a land grant institution and the public research university of this capital region, it is our obligation to be at the cutting edge of these efforts and an additional campus in Sacramento is essential to those efforts," Chancellor Linda P.B. Katehi said during the school's fall convocation at the Mondavi Center for Performing Arts.
Although Katehi made no mention of the downtown Sacramento railyard in the speech, she told The Sacramento Bee last week that the site remains among a handful being considered. The satellite campus would include two new schools, one focusing on population and global health and another a public policy institute. The schools would offer master's degree programs, but could be expanded to undergraduate programs in the future depending on demand, Katehi said.
UC Davis joins two other major academic institutions in proposing satellite campuses in downtown Sacramento. The University of the Pacific and Sacramento State in the last year have also announced plans to open public policy schools near the state Capitol.
"We want to be visible," Katehi said in an interview. "We are the only UC so close to the state Capitol. … We need to create a name and a brand in the policy area. Whether it is food, water, energy sustainability or health, I think we can play an amazing role. That is my goal."
For the full article, click on the link below.
[Source]: Sacramento Bee