Strike Averted as UC Hastings Workers Reach Tentative Contract Agreement
---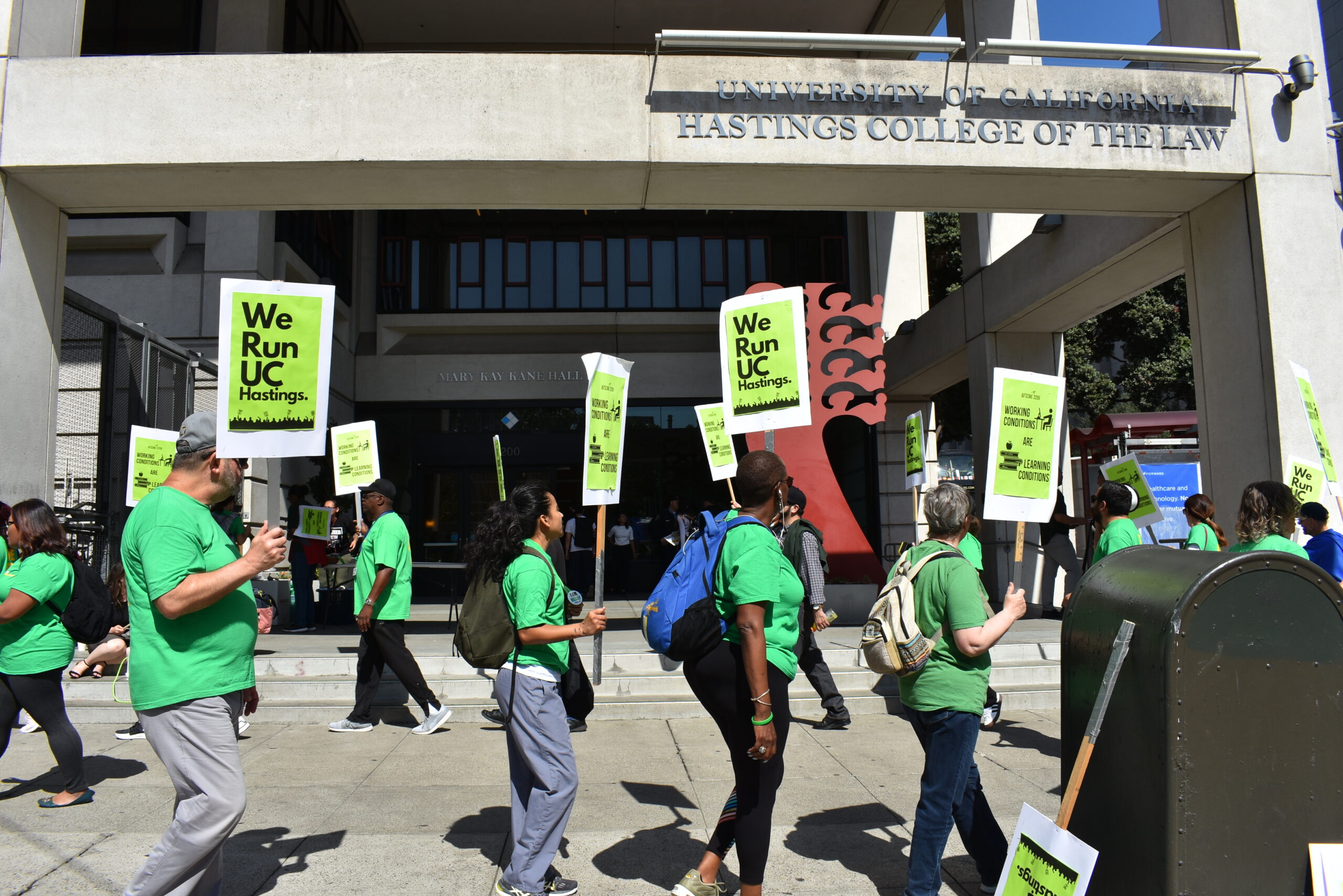 SF Law School's lowest paid workers had been set to launch their first ever primary strike this morning
**ALERT**
(OAKLAND, CA) –  A planned strike by nearly 100 professional and administrative workers at UC Hastings College of the Law has been cancelled after late night negotiations between AFSCME Local 3299—which represents the workers—and UC Hastings leadership produced a tentative contract agreement last night.
After going nearly three years without a raise and having a neutral fact-finder conclude that they were being paid significantly below market wages, AFSCME 3299 represented workers at UC Hastings had voted to authorize their first primary strike last week with 89% support.
"Late last night, our bargaining team together with UC Hastings Administrators came together on contract terms that will provide our members with a long overdue raise that honors the important work we do," said AFSMCE 3299 Bargaining Team Member and UC Hastings Library Operations Manager Jeff Herrera.  "This market-competitive agreement ensures that UC Hastings will be able to retain the skilled professionals it needs to serve students, while also ensuring our members will be able to live and work with dignity."
AFSCME 3299 represented UC Hastings College of the Law workers earn an average of $56,000 per year, working in a city where the cost of living has been rising substantially faster than wages.  The agreement reached between the union and the college last night will provide represented UC Hastings workers with a market salary adjustment, retroactive raises for 2018 and 2019, and 3% annual increases thru 2024.  The workers will also receive the same pension and healthcare benefits recently secured by AFSCME 3299 represented UC Service and Patient Care Technical workers.  Workers will now vote on whether to ratify the agreement on March 11th, and the AFSCME 3299 Bargaining team is recommending a yes vote.
The AFSCME 3299 represented bargaining unit at UC Hastings includes Administrative Analysts, Administrative Specialists, Accountants, Program Coordinators, Parking Attendants, Administrative Assistants, Library Assistants, Computer Support Specialists, Web Developers, Student Services Coordinators and related occupations.
With this agreement for UC Hastings workers, AFSCME Local 3299 has now won successor agreements for all four of its UC bargaining units since the start of 2020—including skilled craft workers at UC Santa Cruz, and more than 26000 UC Service and Patient Care Technical workers.
"Over the last three years, we have worked to hold our state's premier public universities accountable to the values of fairness, justice, and economic mobility that they have taught generations of California students," said AFSCME 32999 President Kathryn Lybarger.  "From the fight to end the outsourcing of UC jobs, to combatting the wage stagnation that has left too many workers behind, the unflinching solidarity of AFSCME 3299 members has won the highest union standard in the history of UC, lifted thousands of hard working families out of poverty, and created more middle class career ladders for California's most historically disadvantaged communities."