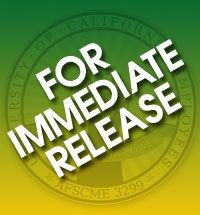 The Honorable Senator Michael Rubio
State Capitol, Room 2066
Sacramento, CA 95814
Re: SCA 22 (Rubio) – University of California- admission of out-of-state students – Support
Dear Senator Rubio:
I am writing to register UC Employees Union – AFSCME Local 3299's support for Senate Constitutional Amendment 22, authored by you, which simply puts into law a policy the University of California (UC) already has, which is to cap out-of-state student enrollment at UC to no more than 10%.
As the President of 21,000 strong patient care and service workers throughout the University of California system who are part of UC Employees Union – AFSCME Local 3299, we're proud to be UC workers. It's this same pride that motivates many of our members' children to work hard in school, so that one day they'll be able to attend the most prestigious university system in the world – the University of California.
Sadly, this dream is under attack as UC increases the number of out-of-state freshmen. Qualified California higher school students are being edged out by students with families who have one competitive advantage- they bring more money to the University.
For my two kids – Jacques and Rocio – who dream about one day being students at the University of California – what message does this send them? That even if they're at the top of their class, this is not a dream within their reach? As a mom, how can I tell them that their dream is denied?
If we let UC admit non-California students at their discretion, the very principles on which UC and California's Master Plan were founded– accessibility and affordability – will be lost.
My family, our members' families and the residents of California not only deserve access to the educational opportunities that our nation's leading public university system has to offer, but the UC also has an obligation to serve the diverse ethnic and economic needs of the State.
The UC Board of Regents' recent decision to increase enrollment of non-California students has resulted in an alarming trend: instead of 10 percent like UC's policies dictate, non-California students accounted for more than 23 percent of the students admitted to the Fall 2012 freshman class, an increase from around 11 percent just three years before.
Whereas four years ago, 88.5% of new freshman admits were Californians, UC's 2012 new freshman admits has reduced Californians to only 76.5%.
What these numbers translate to in real terms for California's communities and our members' families is that, there will be 4,276 more Californians denied admissions to UC in Fall 2012 compared to Fall 2011 because they'll be displaced by an additional 4,276 non-California students who were accepted.
That's 4,276 Californians who won't have the opportunity they deserve to get the best education California has to offer in 2012, an opportunity UC and California has an obligation to offer Californians. And an opportunity working families can't afford to miss during the worst depression and highest unemployment we've seen in our lifetimes.
More California residents would like to attend UC, in fact close to 12,000 more Californians applied for admissions for Fall 2012 than in 2010, but they are being turned away. And part of the reason why they're being denied admission to UC is the shift to non-California students.
As we are both a state and a Union largely composed of immigrants, we want to be clear that out-of-state students are a key part of our state and the UC, but recruiting non-California students for the purpose of balancing the UC budget isn't the answer to our problems and undermines public support for restoring funding.
As if the UC's obligation to us weren't enough, the Public Policy Institute of California recently projected that by 2025 California will be short one million educated workers unless the state is able to substantially increase rates of college enrollment and graduation.
We won't be able to close that gap by drawing college-educated workers from elsewhere and we shouldn't try to- we need to make UC accessible to the very willing and able members of our families and communities who will enroll and graduate if given the chance. It's critical we do everything we can to move California and our communities ahead. This Constitutional Amendment is a step in that direction.
If you have any questions or require anything additional from us, please do not hesitate to contact me at 510-844-1160.
Sincerely,
Kathryn Lybarger
President, UC Employees Union – AFSCME Local 3299
CC: Claudia Magaña; UCSA President
The Honorable Marty Block; Chair- Assembly Higher Education Committee
The Honorable Alan Lowenthal; Chair- Senate Education Committee