UC Workers Call for 3-day Strike, October 23rd-25th
---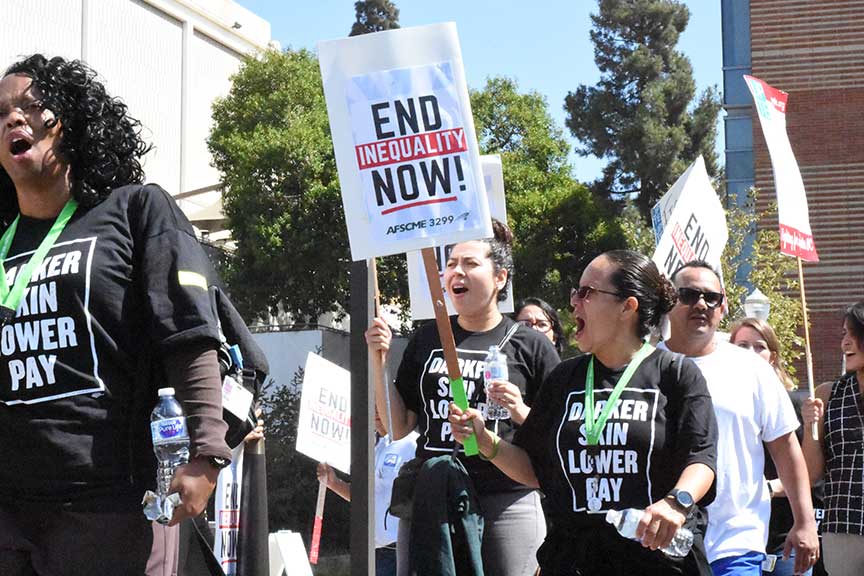 FOR IMMEDIATE RELEASE: October 12, 2018
CONTACT: JOHN DE LOS ANGELES | [email protected] | 650-438-1961
(OAKLAND, CA) – The University of California's largest employee union, AFSCME Local 3299, announced today that the University's Patient Care Technical workers will be staging a 3-day walkout from October 23rd to 25th at all UC Medical Centers. They will be joined in solidarity by AFSCME Local 3299 represented UC Service workers, as well as Professional Healthcare, Research and Technical workers represented by UPTE-CWA.
In a vote earlier this week, AFSCME Local 3299 members authorized a strike by a 96% margin. The move comes after more than a year and a half of deadlocked negotiations, concerns about growing racial and gender disparities within UC's workforce, and the University's decision to bypass collective bargaining and impose employment terms on patient care workers that would increase healthcare premiums, flatten wages, lift the retirement age, and risk the continued outsourcing of UC jobs.
"The University of California has continuously ignored workers' concerns over the outsourcing of good middle-class jobs and the inequality and insecurity that it creates for the hardworking people that run UC every day," said Monica De Leon, Vice President of AFSCME Local 3299's Patient Care Technical Unit. "By ignoring the well-founded concerns of its frontline workforce, UC is eroding the quality of service that we provide to the students, patients, and communities that depend on us."
Over the past year of negotiations, the University has consistently skirted the top concern of striking workers—the increased outsourcing of UC jobs to private contracting companies that hire outside workers to perform the same tasks for lower wages, little to no benefits, and a higher risk of labor abuse such as wage theft. Research has found that this practice may be contributing to the decline of UC's Black workforce while having the effect of driving average market wages down.
"The AFSCME represented segment of UC's workforce is the most diverse group of workers at the University—resembling the demographic makeup of California more than any other group at UC," stated AFSCME Local 3299 President Kathryn Lybarger. "When UC outsources these jobs, they're eliminating what were once career ladders into the middle-class for women and people of color—and that is in major conflict with the University's mission of serving as an engine of economic mobility for all Californians."
AFSCME represents 15,000+ Patient Care Technical Unit workers who voted to authorize the strike during October 23rd to 25th, as well as nearly 10,000 Service Unit workers who voted to join the strike in solidarity. UPTE-CWA, which represents another 15,000 UC workers, also voted to join the strike in solidarity with 97% support.