UC Patient Care Workers Call Two Day Strike, May 21st-22nd
---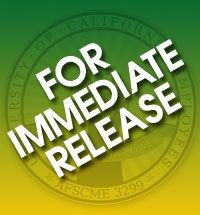 FOR IMMEDIATE RELEASE: May 10, 2013
CONTACT: Todd Stenhouse, [email protected],
(916) 397-1131
UC Patient Care Workers Call Two Day Strike, May 21st-22nd
Hospital Service Workers will sympathy strike, Pickets Planned at All Five UC Medical Centers
Oakland: Moments ago, the nearly 13,000 UC Patient Care Technical Workers (EX Unit) represented by AFSCME Local 3299 issued a ten day notice to UC's Office of the President of their intention to engage in a two day strike, May 21st-22nd. These workers will be joined on the picket lines by UC hospital service workers (SX Unit), who will engage in a sympathy strike.
The announcement comes after nearly a year of stalled contract negotiations and mediation sessions, and less than a week after thousands of Local 3299 members—members of both the patient care and service units–voted 97% in support of authorizing a strike.
"It's time to put patients before profits," said AFSCME 3299 President Kathryn Lybarger. "This strike is about standing up for the students, patients and taxpayers the UC Medical System was intended to serve. UC's increasingly unsafe staffing practices and growing culture of executive entitlement are undermining patient care quality and unnecessarily putting lives at risk. We will not rest until UC gets its priorities straight."
Earlier this year, Patient Care workers released a hard-hitting whistleblower report documenting the detrimental impact that new profit incentives are having on both patients and providers within a $6.9 billion UC Medical system that is already banking hundreds of millions of dollars in profits each year. This was followed by the elimination of 300 jobs at UCSF Medical Center, a $1.2 million dollar whistleblower settlement charging patient neglect at UC Irvine, UC VP of Health Services John Stobo admitting to lagging patient satisfaction across the UC Medical System at an event last Friday, and yesterday's announcement that UCLA's Ronald Reagan Medical Center has received a substandard patient safety rating from a leading healthcare buyers group for the second straight year.
Amongst AFSCME's good faith proposals have been safe staffing committees, limits on contracting out frontline care jobs to inexperienced temps and volunteers, and lower caps on the exorbitant pensions paid to top UC Executives.
By contrast, UC Administrators have demanded that patients and its lowest paid workers agree to subsidize lifetime payouts as high as $300,000 annually for top Medical Center Executives—many of whom threatened to sue UC for even more exorbitant retirement benefits just two years ago. The UC Medical system's three largest unions—AFSCME, CNA, and UPTE-CWA 9119—as well as two independent fact finders have each refused this demand.
As part of its strike plans, AFSCME 3299 has completed an exhaustive review of each UC Medical Department to ensure that emergent patient needs will be met, and has created a patient protection task force to respond to any unforeseen medical contingencies during the strike.
UC Patient Care Technical Workers include Respiratory Therapists, Nursing Aides, MRI Technologists, Licensed Vocational Nurses, Surgical Technicians, Pharmacy Technicians, Security Guards, Hospitality workers, Hospital Assistants, and many others.