UC IMPOSES PAY CUTS ON ITS LOWEST PAID WORKERS
---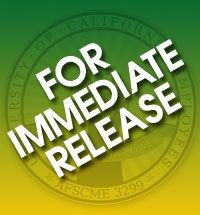 FOR IMMEDIATE RELEASE: September 25, 2013
CONTACT: Todd Stenhouse, [email protected],
(916) 397-1131
99% of Affected Workers Already Income Eligible for Some Form of Public Assistance
OAKLAND: For the second time in as many months, the University of California has refused offers of compromise and bypassed the collective bargaining process to unilaterally impose a contract on represented employees.
After more than a year of bargaining, UC Administrators notified AFSCME 3299 yesterday that they would be forcing cuts in pay and health benefits on its service workers—more than 8,000 of the lowest paid employees in the UC system.
The cuts amount to a 1.5% decrease in take home pay for workers making an average of $35,000 per year, and up to $124,000 in higher health costs for each worker over their lifetime.
By contrast, UC's highest paid employees—nearly 700 of whom receive larger salaries than the President of the United States—have already received a 3% across the board raise this year.[i]
The service workers affected by the imposed contract include custodians, gardeners, food service workers, and facilities maintenance staff. Even before these latest cuts, 99% of Service Workers were income eligible for some form of public assistance.[ii] Due to the physically demanding nature of their labor, one in ten UC Service workers are injured on the job, and worksite injuries have increased by more than 17% since 2009.[iii]
"The aspirations and sacrifice of generations of frontline workers and everyday taxpayers built UC into a crown jewel public university and a gateway to the middle class," said AFSCME 3299 President Kathryn Lybarger. "Today, UC is being transformed into a symbol of the widening income gap that is condemning growing numbers of Americans to a life of poverty. Taking from UC's lowest paid, full time workers in order to line the pockets of UC Executives is not just an attack on collective bargaining—it's an assault on basic morality."
The move comes just days after UC Service Workers told a gathering of UC Regents (including the Governor and Lt. Governor) about the difficult choices that low wages at UC were already forcing on their families.
"I've been working full time at UC for 33 years," said Eugene Stokes, a 53 year old Senior Building Maintenance Worker at UC Berkeley. "I work another job to try and make ends meet, but I don't think I'll ever be able to retire. Yesterday, I had to choose between paying the mortgage, or helping my daughter with her tuition. On other days, that choice is between medicine and food."
Minutes after Stokes addressed them, the UC Regents approved a $115,000 incentive bonus for UCOP Administrator Jack Stobo, on top of his $580,000 base salary.[iv]
UC's decision to impose terms on Service workers comes just days after the State's Public Employment Relations Board charged UC with illegally threatening and coercing employees who sought to exercise their collective bargaining rights earlier this year.[v]
It also comes less than a week from the scheduled start date of incoming UC President Janet Napolitano. Napolitano has faced sharp criticism from UC students for her record on immigration as Secretary of Homeland Security.
"UC's service unit includes thousands of first generation immigrants who have devoted their lives to helping others realize their dreams," Lybarger added. "While Napolitano has said that she plans to stand up for the aspirations of all Californians, UC's actions on the eve of her ascent to the Presidency are sending a very different message. Only Secretary Napolitano can change this perception, by accepting our invitation to meet and cooperate in the spirit of good faith compromise."

ADDITIONAL BACKGROUND: FACTFINDERS ROUTINELY SIDE WITH AFSCME ON CORE ISSUES:
Throughout AFSCME 3299's negotiations on behalf of both Patient Care and Service workers with UC, Independent 3rd Party Factfinders have routinely sided with AFSCME on many of the core issues:
From Paul Roose, Neutral Factfinder, SX Bargaining, 8/21/13
Wages: "The Employer's proposal is vague and incomplete. If one assumes that it is, in fact, a proposal for a four-year wage freeze, then this is not justified by the data presented — in particular the increase in the CPI. Reliance on a blind, non-disclosable wage survey is highly unusual, if not unheard of, in public sector bargaining." (Recommendation: 3% raise + step each year of agreement)
Retiree health care: "What tips the balance in favor of the Union on this issue is the portion of the Employer's proposal that changes the eligibility requirements for many current employees (half the unit) after they have already been in the current system. Some have been in that system for many years. It is generally understood that changes in fundamental characteristics of post-retirement benefits such as eligibility requirements and plan design should not be changed for current employees, but only for future hires… The neutral panel chair recommends the adoption of the Union's position on bargaining over retiree health benefits."

From Robin Matt, Neutral Factfinder, PCT Bargaining, 3/29/13
Pensions: "Increases in retirement contribution and attenuation of retirement benefits under UC's proposed new tier have an immediate an quantifiable impact on the value of…employees total compensation. The panel chair recommends that wages and salary steps for the new agreement be adjusted…to reduce the immediate impact…the panel chair further recommends that prior to implementation date…the parties consider alternate plan design options, including consideration of AFSCME's proposal to lower normal cost by alternate funding policy and capping of high end pensionable compensation."
---
[i] http://www.dailycal.org/2013/06/09/uc-implements-unconditional-salary-increase/
[ii] Data sources: CPS April 2013 – base pay for full time SX workers only; 2013 income eligibility guidelines for public housing programs by county, Medi-Cal Kids (formerly Healthy Families), WIC, and Federal School Lunch Programs. Public Housing: http://www.huduser.org/portal/datasets/il/il2013/select_Geography.odn Medi-Cal Kids (formerly Healthy Families): http://www.healthyfamilies.ca.gov/hfprogram/Income_Guidelines.aspx WIC Income Guidelines: http://www.fns.usda.gov/wic/howtoapply/incomeguidelines.htm Federal School Lunch Guidelines: http://www.fns.usda.gov/sites/default/files/IEG_Table-032913.pdf
[iii] OSHA Form 300s 2009, 2010, 2011, 2012. Workplace injuries rose 17.5% from 2009 to 2012. In 2012, 1 in 10 service workers was injured on the job. 1 in 7 custodians injured on the job in 2012. 1 in 5 food service workers injured on the job in 2012.
[iv] http://regents.universityofcalifornia.edu/regmeet/sept12/c1.pdf
[v] https://afscme3299.org/documents/legal/PERB-COMPLAINT-9-12-13-UPC-SF-CE-1033-H.pdf