STATEMENT: UC Workers React to DNC Decision to Change December Debate Venue
---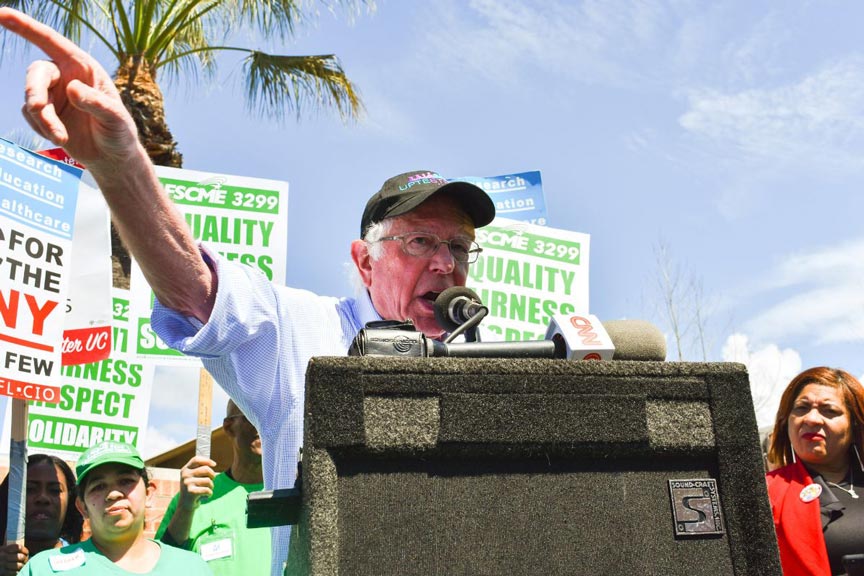 FOR IMMEDIATE RELEASE: November 6, 2019
STATEWIDE CONTACT: Todd Stenhouse | [email protected] | 916-397-1131
AFSCME 3299 Sent Letter to Candidates, Asking them to Honor UC Speakers Boycott
Oakland, CA — As reported by the Huffington Post earlier today, the Democratic National Committee has announced that it will relocate its planned December 19th Presidential Debate away from UCLA.  The DNC announcement came after AFSCME Local 3299, UC's largest employee union, wrote to the six candidates who had already qualified for the debate asking them to honor a Speaker's Boycott to protest the University of California's continued role in contributing to economic and racial inequalities at the UC and across the State of California.

In response to the DNC's announcement, Local 3299 has issued the following statement:

"We applaud the decision by the DNC to stand with University of California workers in their fight for fair treatment from California's 3rd largest employer. And we are grateful to the candidates and other leaders who have stood with us in solidarity on our picket lines. Just as our next President must work to heal the divisions in our country, they must also work to confront the staggering inequality and mistreatment of low wage workers that have become all too common in today's economy. While a change of venue for this debate is no doubt inconvenient, it pales in comparison to the effect that the University's lawless outsourcing practices are having on thousands of families and communities across California.  It is past time for UC to honor the aspirations of those who do the hard, physical work of making this institution run and not just ivory tower elites." 

Local 3299 represents more than 26,000 Service and Patient Care Technical workers at UC's ten campuses and five medical centers.  It has been in a protracted dispute with UC Administrators for nearly three years. During this time, UC has repeatedly – and illegally – contracted out University jobs to private contractors that pay their workers even less.  

Last week, the union announced that it will mount a statewide ULP strike on November 13th in response to six new charges filed with the California's Public Employment Relations Board (PERB) that detailing the university's secretive efforts to accelerate outsourcing—alleging violations of both internal university policies and state laws.  PERB has already found sufficient evidence to issue a formal complaint on one of the charges.

Last summer, UC acknowledged to State Legislators that it had increased its spending on outsourcing of jobs customarily done by AFSCME represented UC workers by 52% since 2016—and by 84% at its Medical Centers alone.

Since it was first announced earlier this year, AFSCME 3299's speakers boycott has already been honored by a range of state and national leaders—including Former Georgia Gubernatorial Candidate Stacy Abrams, Senator Kamala Harris, and Jennifer Seibel Newsom.  Senator Bernie Sanders and Former HUD Secretary Julian Castro have also joined AFSCME 3299 represented UC workers on picket lines within the last year.   
###