STATEMENT: AFSCME RESPONDS TO UC DECISION TO IMPLEMENT CONTRACT
---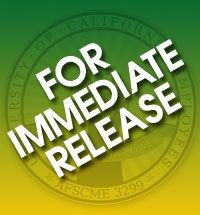 FOR IMMEDIATE RELEASE: July 25, 2013
CONTACT: Todd Stenhouse, [email protected],
(916) 397-1131
Oakland: Yesterday, University of California Administrators notified AFSCME Local 3299 that it would be implementing its last contract proposal on the UC system's 13,000 Patient Care Technical Workers.
The move follows more than a year of stalled negotiations, growing concern about the safety of clinical care services at UC Medical Centers, the historic first-ever strike of UC's Patient Care Technical unit, and AFSCME's recent offer of compromise on post-employment retirement benefits in exchange for safe staffing at UC hospitals.
In response, AFSCME 3299 President Kathryn Lybarger has issued the following statement.
"For more than a year, our members have led the fight against the dangerous and reckless priorities of top UC Administrators—chronically understaffed public hospitals, skyrocketing student tuition, and outrageous executive entitlements. While AFSCME 3299 has negotiated in good faith and offered meaningful compromise, UC has chosen to hold the health and aspirations of millions of Californians hostage over its insistence on $300,000/year public pensions for its highest paid employees. We view this as a full frontal assault—not just on the collective bargaining process and the frontline workers at the backbone of the UC system–but on the students, patients, and taxpayers this system is supposed to serve. While UC Administrators have only deepened the myriad of problems that incoming UC President Janet Napolitano will soon inherit, they have also given her the opportunity to tell California how she plans to lead. If Secretary Napolitano is serious about reform and getting UC back on track, she couldn't pick a better time than now to stand up for basic fairness and call for real sacrifice from UC executives."
The contract imposed on the Patient Care Technical Unit by UC includes a substantially smaller across the board wage increase than UC granted to its management staff on July 1. UC also is forcing frontline patient care workers to make substantially increased pension contributions, up to a 20% increase in Health Insurance premiums, parking increases up to 10%, and reductions in paid leave. UC's forced contract includes no language to address the epidemic of unsafe staffing levels in UC hospitals, which has been the top priority of AFSCME 3299.
Though UC is forcing its lowest wage workers to pay more for fewer retirement benefits, it has refused to reign in the exorbitant pensions it is paying to its growing group of top executives.
According to the Associated Press, as of May 2012, almost 2,200 UC retirees drew annual pensions of more than $100,000—some as high as $300,000. And the ranks of six figure UC Pensioneers are growing, with Executive and Management annual payroll in its Medical Centers alone increasing by more than $100 million since 2008.
"We believe UC employees should be subject to the same pension reforms as every other public employee in California," Lybarger added. "UC believes that its highest paid employees are entitled to the most lucrative public employee pensions in the state—and they believe that students, patients, taxpayers, and their lowest wage workers should be forced to subsidize them."