AFSCME to UC: Stop Outsourcing Jobs to ICE Collaborators
---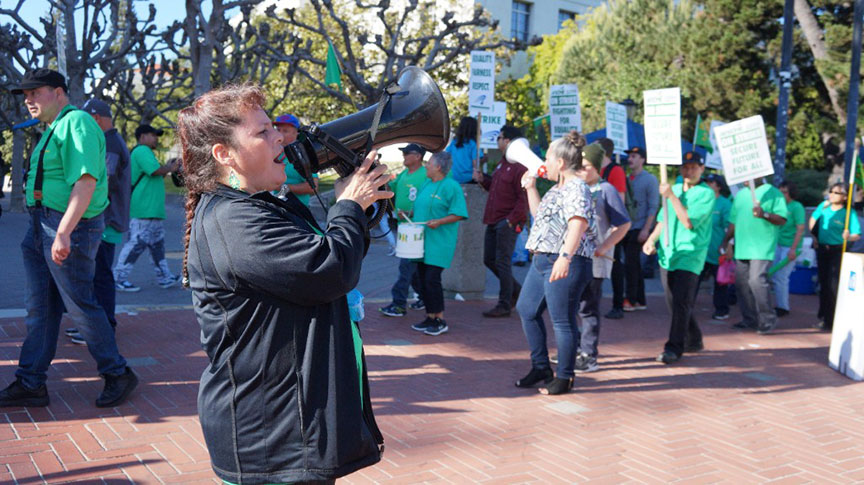 FOR IMMEDIATE RELEASE: August 13, 2018
CONTACT: JOHN DE LOS ANGELES | [email protected] | 650-438-1961
Records Show University of California Spent Hundreds of Millions of Dollars on Contractors Behind Trump's Controversial Immigration Policies
(OAKLAND, CA) – The University of California's (UC) largest employee union, AFSCME Local 3299, recently called for UC to stop outsourcing jobs and other services to private contractors who are working with Immigration and Customs Enforcement (ICE) to implement President Trump's "zero tolerance" and family separation policies.
Between 2011 and 2015, UC spent at least $281 million on staffing, maintenance, and other services from companies currently under contract with ICE, according to the University's vendor reports. While the University has yet to fully disclose its 2016-2018 reports, additional data shows that several ICE collaborators remain under contract at UC.
The public outcry comes as a growing number of high-profile figures and organizations have faced scrutiny for their links to controversial policies that have been called everything from state sanctioned child abuse to humanitarian crisis. UC President Janet Napolitano has called them a "misallocation of resources."
"Is UC President Janet Napolitano going to stand up to Trump's deportation force, or enrich it," asked AFSCME Local 3299 President Kathryn Lybarger. "This is a fundamental question of leadership and morality, and she can't have it both ways."
Roughly 53,000 workers at the University even went on strike in May over growing concerns about outsourcing at UC—which recent research revealed is likely contributing to widening income, racial, and gender gaps amongst the University's lowest paid and most vulnerable workers.
Specifically, between 1996 and 2015, UC saw a 37 percent drop in the African American share of its service workforce, and surveys show that those same workers are now more likely to be employed by lower-wage outsourcing companies that contract with UC for the same exact work.
"UC outsources jobs to ICE collaborators for the same reason that ICE does," stated Maricruz Manzanarez, AFSCME Local 3299's Immigration Committee Chair. "They want to pay their workers less. And most of those workers—like the families being ripped apart and detained by ICE—are immigrants and people of color."
A formal request for UC to withdraw from agreements with companies profiting from Trump's zero tolerance policy was delivered in late July. President Napolitano has yet to respond.
"If Napolitano is sincere about pioneering a better future for Californians and fighting the humanitarian crisis that's exploding on our southern border, she should use the best tool at her disposal: UC's purchasing power," Lybarger added.