AFSCME Calls on UC to Cap Executive Pensions
---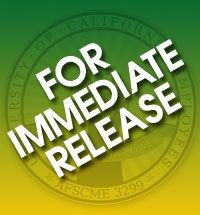 FOR IMMEDIATE RELEASE: May 3, 2013
CONTACT: Todd Stenhouse, [email protected], (916) 397-1131
AFSCME Calls on UC to Cap Executive Pensions
UC Executives Collect Annual Payouts As High as $300,000, Diverting Millions of Dollars from Hospital Care and Student Services
Oakland: The UC system's largest union today has called on the UC system's growing group of Executives and Management staff to adopt the cap on pensionable compensation recently signed into law by Governor Jerry Brown. The move could ultimately save the UC system as much as $35 million per year.
Managers and Executives have been the fastest growing segment of UC's workforce since 2008—adding more than $100 million dollars annually to the cost of UC Medical Centers alone.
While the pensionable compensation cap for state employees was reduced to $110,000 in 2012, UC's pension cap remains substantially higher– $375,000 for employees hired before 1994, and $250,000 for employees hired since.
Current UC Executives will receive up to $300,000 in annual pension payouts for life upon retirement, plus another $2.3 million in annual supplemental pension payouts that UC reserves for 160 employees in its Senior Management Group. Some of these executives already get more than a million dollars a year in salary and bonuses.
"If you are tasked with leading a public health or academic facility and demand a $300,000 annual pension on top of a seven figure salary, this suggests one of two things—either your students and patients are not your top priority, or you are not a competent enough money manager to be entrusted with the finances of a multi-billion dollar institution," said AFSCME 3299 President Kathryn Lybarger. "UC could easily provide safer staffing levels at its hospitals or save what it is demanding of its lowest paid workers by asking their top Executives to do without one more beach house or luxury car when they retire."
Thirty six top UC Executives—including the CEOs of all five UC Medical Centers—threatened to sue the UC Regents in late 2010 if they did not lift their cap on Executive Pensions altogether. This would have given one UC Medical Center CEO—UCSF's Mark Laret—an annual pension of nearly $800,000. Laret recently made headlines by eliminating 300 jobs—including nurses, pharmacy technicians and other frontline care providers–while collecting a $300,000 bonus.
Read the story about the threatened lawsuit here: http://www.sfgate.com/education/article/Highest-paid-UC-execs-demand-millions-in-benefits-2517829.php

More on the UCSF Layoffs Here: http://www.sfbg.com/2013/04/23/care-clash
Within the past year, two independent fact-finders and the UC system's three largest unions (AFSCME 3299, CNA, and UPTE-CWA 9119) have all rejected UC's pension proposals—each of which protect exorbitant payouts to top Executives, while asking everyone else—including frontline care and service workers retiring on less than $19,000 per year—to help subsidize them.
This isn't the first time UC Executives have sought to exempt themselves from tackling system-wide financial challenges. Over the last decade, while increasing the number of executives earning over $400,000 per year by 500%, UC tripled in-state tuition, quadrupled its annual debt service payments, laid off thousands of frontline hospital and campus workers, and eliminated course offerings.
As recently as January, Governor Brown called on UC Executives to exhibit more "modesty."
"Over the last decade, just about everyone who cares about UC has made immense sacrifices on its behalf, except for the system's top executives," Lybarger added. "We will no longer allow safe staffing in UC hospitals or college affordability for qualified California students to be held hostage so that top UC Executives can continue to receive outrageous, taxpayer-subsidized golden handshakes."
After nearly a year of stalled negotiations over issues ranging from safe staffing to pension reform, and in the wake of a blistering new whistleblower report that chronicled chronic under-staffing and other deficencies at all five UC Medical Centers, AFSCME 3299's 13,000 Patient Care Technical workers began voting this week on whether to authorize a strike.
BACKGROUND: UC Health System Overview, Employee Compensation and Pensions By the Numbers
The UC Medical System serves four million patients each year at five medical centers—Davis, Los Angeles, San Francisco, Irvine, and San Diego. It grossed $6.9 billion in 2012, and banks hundreds of millions of dollars in profits annually. The system receives over $300 million in funding from state taxpayers each year.
Patient Care Technical Workers: The UC Health System's 13,000 Patient Care Technical Workers represented by AFSCME Local 3299 include Patient Care Assistants, Hospital Unit Service Coordinators, Operating Room Assistants, Nursing Aides, Surgical Sterilization Technicians, Hospital Assistants, Pharmacy Technicians, Security Guards, Radiological Technicians, Respiratory Therapists and others. Collectively, these workers earn an average salary of $54,000 per year, and an average pension—after twenty years of service–of $27,000 per year.
UC Health System Management: Below, is the 2011 pay (including bonuses) of the UC Health system executives who threatened to sue UC Regents in 2010. This includes their expected annual pension upon retirement with a minimum of 20 years of service under UC's current system. Also included is what their annual pension payout would have been under the terms of their threatened lawsuit.
Source of compensation numbers: https://ucannualwage.ucop.edu/wage/
*Paul Viviano was hired in 2012 and did not join the threatened lawsuit for larger Executive Pensions in 2010. His predecessor, Tom Jackiewicz, did.
#Estimated Annual Pension is calculated based on the compensation cap divided by 12, times the number of years of service, times the standard age factor used by the UC system.
State Pension Reform (PEPRA): Under state pension reform signed into law by Governor Jerry Brown in 2012, the state of California now caps pensionable compensation for its employees at $110,000 per year. If this were applied to the highest paid executives in the UC system, the average pension they would receive after twenty years of service, using UC's age factor, would be $55,000 per year.