AFSCME 3299 MEMBERS VOTE 96% IN SUPPORT OF AUTHORIZING ULP STRIKE AT UC
---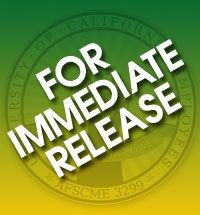 FOR IMMEDIATE RELEASE: November 1, 2013
CONTACT: Todd Stenhouse, [email protected],
(916) 397-1131
Lybarger: "Membership stands united for a workplace that is free of illegal intimidation."
Oakland: The University of California's largest union has announced today that its members have voted to authorize an Unfair Labor Practice Strike, with 96% support.
"Our membership stands united for a workplace that is free of illegal intimidation against employees who stand up for the safety of the students and patients they serve," said AFSCME 3299 President Kathryn Lybarger. "We believe UC should be held accountable for their serial law breaking."
The vote follows a formal complaint from California's Public Employment Relations Board, which documents how UC Administrators attempted to illegally threaten and coerce Patient Care and Service workers both before and during the first ever UC Hospital Strike this past May. This includes numerous instances of UC Managers threatening to discipline workers who exercised their collective bargaining rights. Much of the complaint is drawn from UC's own internal documents.
Read PERB's complaint Here: https://afscme3299.org/documents/legal/PERB-COMPLAINT-9-12-13-UPC-SF-CE-1033-H.pdf
"Frontline UC hospital workers take great pride in their jobs, and have legitimate concerns about the culture of corner cutting and increasingly unsafe staffing practices that are putting their patients, students and colleagues at risk," Lybarger added. "Regrettably, these concerns have been validated by millions of dollars in government fines and court ordered whistleblower settlements levied against UC hospitals, as well as preventable tragedies involving UC patients. By attempting to illegally silence workers who raise these issues, UC has shown a willful disregard for both the collective bargaining process and the safety of those who entrust UC Medical Facilities with their lives."
Thousands of votes were cast by Patient Care and Service workers represented by AFSCME 3299 over a three day period this week at UC's five Medical Centers and ten UC Campuses.
The dates of a strike have yet to be announced, though AFSCME 3299 can lawfully call one at any time with ten day notice. As was the case during its May Hospital Strike, AFSCME 3299 has once again committed itself to patient protection measures, including the formation of a Patient Protection Task Force to handle emergency needs in the event of a work stoppage.