AFSCME 3299 ANNOUNCES "HISTORIC" TENTATIVE AGREEMENT FOR UC SERVICE WORKERS
---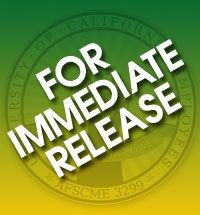 FOR IMMEDIATE RELEASE: February 27, 2014
CONTACT: Todd Stenhouse, (916) 397-1131, [email protected]
Members Must Ratify 4 Year Agreement; Strike Scheduled for March 3-7 has been Canceled; Bargaining with AFSCME 3299 Patient Care Technical Workers to Continue this week
Oakland: The University of California and AFSCME 3299 have reached an historic, tentative, 4-year contract agreement for the system's 8300 Service Workers. As a result, next week's scheduled strike by AFSCME 3299 represented UC workers has been canceled.
For UC Service workers affected by the agreement—99% of whom are currently income eligible for some form of public assistance—the potential settlement includes 13.5% across the board wage increase (over 4 years), affordable healthcare benefits for both current employees and retirees, and important new safe staffing protections—including limits on contracting out.
"After more than a year of good faith bargaining, we have finally reached a historic agreement with UC that will pull thousands of its full-time employees out of poverty and begin to rectify staffing practices that needlessly put our members and the people they serve at risk," said UC Service Worker and AFSCME 3299 President Kathryn Lybarger. "While this proposed settlement includes compromise on both sides, it honors the contributions that career service workers make to this institution, as well as UC's responsibility to build ladders to the middle class. Our members are deeply grateful to the thousands of students, faculty, colleagues, elected officials, and everyday taxpayers who have stood with us, and stood for the principles of fairness and dignity that bind every member of the UC community."
While UC Service Workers have secured a tentative agreement, the 13,000 UC Patient Care Technical Workers represented by AFSCME 3299 remain in bargaining with UC, with more sessions scheduled for later this week. The Patient Care Technical Unit had been scheduled to sympathy strike with Service Workers next week.
"The Patient Care Unit has been engaged in good faith bargaining for more than 20 months—even longer than Service Workers—and like Service workers, has already given UC 80% of what it wants, including the university's top priority of pension reform," Lybarger added. "Having seen the unflinching resolve of our membership and the many thousands of Californians who support them, it is our hope that the spirit of compromise that UC finally brought to the table yesterday to reach a settlement with UC Service workers will continue in upcoming bargaining sessions with the Patient Care Technical Unit. If it does, we believe that an end to this unfortunate, protracted dispute may finally be within reach, and a new period of cooperation can begin."