Workers, students call for insourcing of all subcontracted workers on campus
---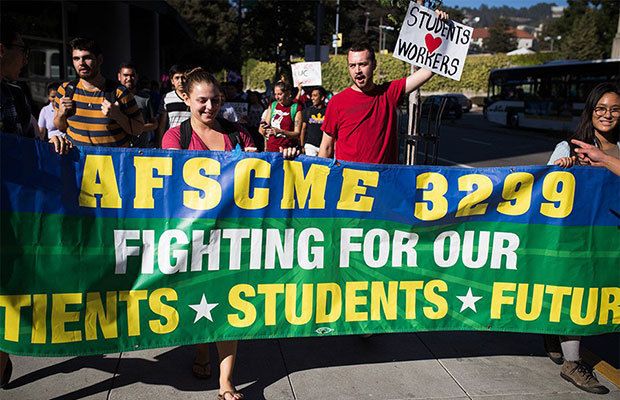 By Melissa Wen
Several dozen students, workers and community members marched to various locations on campus and in the city Monday, delivering petitions calling for the insourcing of all subcontracted employees at UC Berkeley.
The action was the result of organization among employees of ABM, Performance First Building Services and LAZ Parking — three companies that contract with the campus.
The workers said that as subcontracted employees, they receive significantly less pay than UC workers performing equivalent work — a problem they hoped would be solved by being brought in as UC employees.
In addition to subcontracted employees, those marching included members of the Student Labor Committee and the American Federation of State, County and Municipal Employees, the union representing UC employees. They set out about 4:30 p.m. to distribute copies of the petitions, beginning at Labor Relations at UC Berkeley in University Hall, where Debra Harrington, the labor relations director, agreed to listen to workers' testimonies.
For full article, click on the link below.
[Source]: Daily Californian