University of California Patient Care Workers Strike for Better Patient Care
---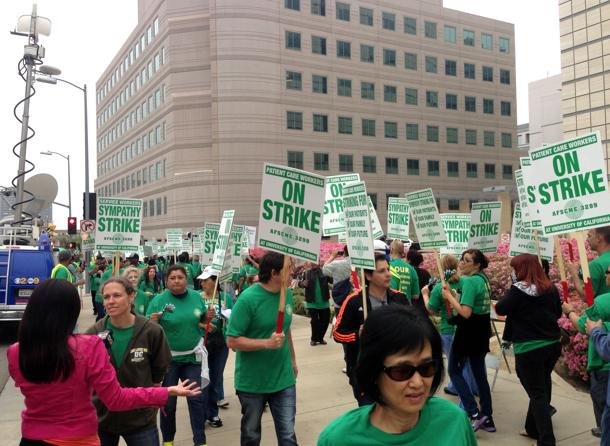 By Pablo Ros and Kevin Brown
LOS ANGELES – Thousands of University of California patient care workers went on strike today in five locations throughout the state, chanting: "What's this about? Patient care!" and "All day, all night – safe staffing is our fight."
The members of AFSCME Local 3299 – the nurses, surgical and X-ray technicians, custodians, servers, cooks and others that keep one of the largest medical systems in the country running – began a two-day strike to demand from hospital executives that they put patients before profits.
"This strike is about standing up for students, patients and taxpayers the UC Medical System was intended to serve," said Local 3299 Pres. Kathryn Lybarger, also an AFSCME International vice president. "UC's increasingly unsafe staffing practices and growing culture of executive entitlement are undermining patient care quality and unnecessarily putting lives at risk."
Executive compensation at UC Medical is up by $100 million since 2009 and executives are taking lifetime pensions of up to $300,000 a year, all while compromising on safe staffing levels. They are forcing workers to do more with less and placing the burden of sacrifice on those who make less than $30,000 a year.
This has led to unsanitary operating tables, broken equipment, chronic understaffing and deteriorating hospital conditions that put patients in harm's way.
For nearly a year, the University of California medical system has refused to negotiate reasonable safe staffing, retirement security and fair wage proposals. In spite of hundreds of millions in annual profits, administrators want to cut pensions and slash retiree health care.
AFSCME Pres. Lee Saunders, who joined the strike rally, reminded the patient care workers that "we all stand in solidarity" with them. "This is no way to run one of the best university health systems in the nation," Saunders said. "This is no way to treat patients. And this is no way to treat you!"
He also called on UC to "bargain in good faith with its workers," adding, "We call on UC to make patients Number 1. We call on UC to respect the people who keep the doors open and to respect the patients who come through those doors!"
Since Local 3299 began negotiations more than 10 months ago, UC administrators have been unwilling to come to the table with a workable proposal. Today's actions follow a nearly unanimous vote, in which 97 percent of members supported going on strike. Before the walkout, Local 3299 took measures to ensure that patient care needs will be met.
Please help our sisters and brothers in the UC medical system and show solidarity by signing this petition. After you sign the petition, call the CEOs of UC Medical Centers and tell them you support AFSCME members out on strike. Tell them: "It's time to curb exorbitant UC executive entitlements, and put patients before profits."
The chief executive officers are:
Mark Laret, UC San Francisco Medical Center – (415) 353-2733
David Feinberg, UCLA Medical Center – (310) 267-9315
Terry Belmont, UC Irvine Medical Center – (714) 456-6240
Ann Madden Rice, UC Davis Medical Center – (916) 734-0751
Paul Viviano, UC San Diego Medical Center – (619) 543-6654