Union rallies at UCI Medical Center over layoffs of health care workers
---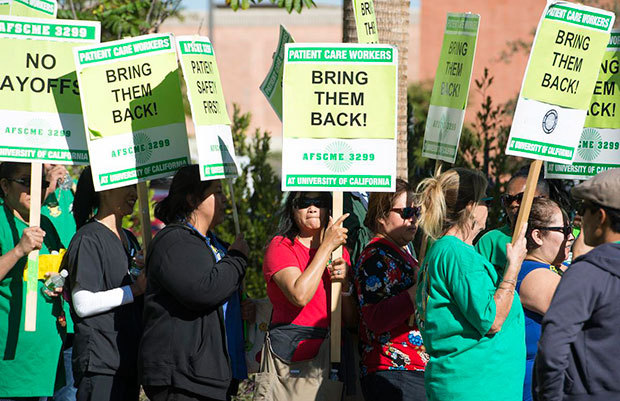 By COURTNEY PERKES
Union members on Thursday vowed to continue their protests at UC Irvine Medical Center until workers who lost their jobs are reinstated.
More than 250 marchers held signs reading "No layoffs" and chanted "Bring them back" even as the last of the 175 laid-off health care workers finished their final shifts last week.
The rally in front of the Orange hospital was the second organized by American Federation of State, County and Municipal Employees, Local 3299, since last month. In October, UCI announced that the layoffs, an effort to create long-term financial stability, included 68 of the union's members.
Vanessa Garcia, 27, of Garden Grove said her last day as a house unit service coordinator was Nov. 7. She answered phones and responded to patient call lights by either finding a nurse or fetching water.
Garcia, who worked at UCI for more than three years, said she's looking for a new job but would like her old job back. She's hopeful that continued rallies will make that happen.
"The turnout has been amazing," she said. "There is a lot of pressure on them with this."
UCI's 3.5 percent cut of the health care workforce is a measure to avoid exceeding operating revenue, officials have said. But the union contends that with more patients bringing more revenue, the hospital should be hiring, not laying off, employees.
"We know patient load at this hospital is increasing drastically," said Todd Stenhouse, union spokesman. "We know it's profitable. We know middle management is bloated. We know our workers are needed."
For the full article, click on the link below.
[Source]: OC Register