Union calls for speaker's boycott, urging improved treatment of subcontracted workers
---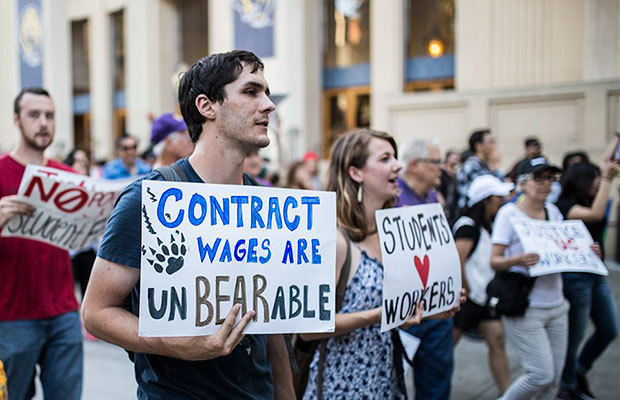 By Maya Eliahou
A UC labor union is calling for a speaker's boycott at UC Berkeley for the duration of the spring semester, urging the campus to improve its treatment of subcontracted workers.
In a press release published Thursday, the labor union, AFSCME Local 3299, said it wants UC Berkeley to hire the nearly 100 subcontracted campus workers employed by Performance First, ABM and LAZ Parking as direct employees.
UC Berkeley employs some individuals directly, or in-house, while others who do temporary or seasonal work are often subcontracted and receive reduced pay and fewer benefits than directly employed workers.
Todd Stenhouse, a spokesperson for AFSCME Local 3299, said the work completed by subcontracted workers is neither seasonal nor temporary and often includes 80-hour work weeks and no overtime compensation.
"These contractors exploit workers, primarily immigrants and workers of color for profit," Stenhouse said. "A first-class university should not treat its workers like second-class citizens."
The American Federation of State, County and Municipal Employees' boycott has the potential to affect planned campus talks, such as those hosted by Cal Performances. It could also affect the Clinton Global Initiative University conference in April, at which Bill Clinton and Chelsea Clinton are scheduled to speak.
Stenhouse said Bill Clinton has honored speaker's boycotts in the past — cancelling a talk at UCLA in 2008 — and is hopeful he will do so again. According to an AFSCME press release, Hillary Clinton met with representatives of AFSCME Local 3299 in June to discuss the university's subcontracting practices.
For the full article, click on the link below.
[Source]: Daily Californian