UC to reduce number of hedge fund managers in attempt to decrease costs
---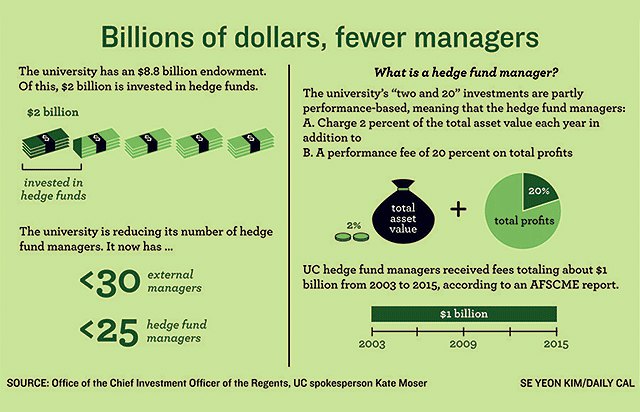 By Patricia Serpa
UC Chief Investment Officer Jagdeep Singh Bachher recently announced that the university will attempt to decrease its costs by further reducing its number of hedge fund managers, who manage about $2 billion of the university's endowment of $8.8 billion in assets.
Controlling costs has been a priority of the UC Office of Investment for the past couple of years, according to UC spokesperson Kate Moser. This latest decision, announced at a Feb. 26 UC Regents Committee on Investments meeting, precedes a March 1 report by the labor union AFSCME Local 3299, which criticized the university's hedge fund investments.
"If you can bring your costs down even farther than they already are, then that's just more money coming back to the university to reinvest," Moser said.
According to Moser, the university is reducing the number of external managers in multiple asset classes, such as stocks or bonds. Moser said the university now has fewer than 30 external managers and fewer than 25 hedge fund managers.
Moser said in an email that the university invests in both the bond market and the stock market to maximize its returns. This type of diversification is not unusual, according to Raymond Hawkins, a lecturer in the campus department of economics and a former hedge fund manager.
"Hedge funds play an important part in our investment mix because they reduce the overall volatility of the portfolio while also providing a source of returns," Moser said in an email.
For the full article, click on the link below.
[Source]: Daily Californian