UC Irvine Health workers picket medical center over layoffs
---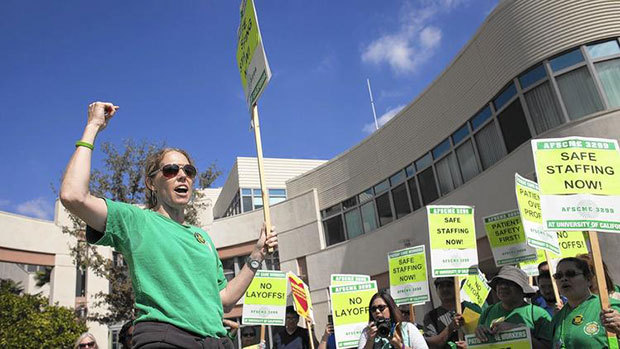 By Alex Chan
More than 100 UC Irvine Health workers used their work break or their day off Tuesday to picket at UCI Medical Center in Orange in response to 175 employee layoffs that began this month.
UC Irvine Health's chief executive, Howard Federoff, informed staff of the layoffs through an email Oct. 3. Previous expense reductions and increased revenue through growth of the organization's clinical services have "not been enough to avoid reductions in staff," Federoff said in the email.
The layoffs are part of a plan to ensure the efficiency of the medical center's clinical and education operations, officials said.
But picketers Tuesday questioned how eliminating employees in frontline positions such as nurses, admitting clerks and medical assistants would serve the center's patients and improve its efficiency.
"When you go into the ER and you're admitted, you need someone to coordinate that, and that doesn't happen without these folks," said Kathryn Lybarger, president of Local 3299 of the American Federation of State, County and Municipal Employees, a union that represents technicians, assistants and other service workers. "They're the people who wheel you in your wheelchair, the people who draw blood or even the person who gives you a bowl if you're about to throw up."
Protesters also questioned why layoffs are needed when, they say, the medical center just had nearly $70 million in profit.
For the full article, click on the link below.
[Source]: LA Times