UC employee labor union protests contract negotiations
---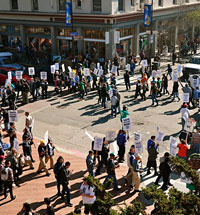 By Libby Rainey | The Daily Californian
About 100 UC Berkeley students and service workers blocked the intersection of Bancroft Way and Telegraph Avenue Thursday afternoon in protest of impending changes to the UC employee pension plan.
The protest was part of a systemwide picket organized by AFSCME 3299, the University of California's Service and Patient Technical Workers union, which represents 22,000 UC service and patient care workers.
The protesters gathered on Upper Sproul Plaza at noon, picketing the area in a large circle before moving onto the street. They stopped traffic for 10 minutes before concluding the hourlong protest on the sidewalk.
The group gathered partially in response to changes to the UC employee pension plan. Starting in July, the university is enacting a two-tiered plan. Employees hired on or after July 1 will receive pension benefits different from those afforded to current employees. Current employees will be expected to give 6.5 percent of their salaries to the pension plan as of the July start date, as compared to the 5 percent they gave last year. New employees will pay 7 percent.
"This is really about UC not getting its priorities straight," said AFSCME 3299 Executive Director Liz Perlman. "Enough is enough. We want to see UC take care of the people that do the work."
The AFSCME contract with the university expired Thursday at midnight, but the union and UC system are still in negotiations due to disagreements over the UC pension plan and cuts to pay and benefits, according to Perlman.
"It's a huge change to our pension, and it's totally unfair to new and young employees," said protester Tanya Smith, president of the UC Berkeley chapter of the union for University Professional and Technical Employees.
UC spokesperson Dianne Klein said that an outside arbitrator is working to negotiate a contract between the union and the university.
"We have 180,000 employees … most of them, those that are unionized, have agreed to our pension reform, and that's all we're asking of AFSCME," Klein said. "We don't see the point of negotiating publicly or in the media. We respect the bargaining process."
Police monitored the protest until it ended just before 1 p.m.
"It's an organized protest, and AFSCME has always been organized in the past," said UCPD Lt. Lee Harris, who was monitoring the scene. "They're being cooperative, and we appreciate that."
According to Klein, although the AFSCME contract has expired, the employees will continue working for the same wages until a new contract is negotiated.
"Service workers are working after today without a contract," said Maricruz Manzanarez, a senior custodian and bargaining representative for AFSCME. "We come to work because we love the students and the university, but we're getting our backs broken."
[Source]: The Daily Californian