Thousands attend labor rally in MacArthur Park
---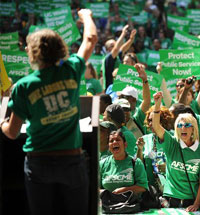 More than 4,000 people attended a Wednesday afternoon rally in MacArthur Park put on by a national public services employees union.
The rally was held as part of the American Federation of State, County and Municipal Employees, or AFSCME, 40th International Convention that began Monday and ends Friday. Vice President Joe Biden spoke at the convention Tuesday.
John Noonan, spokesman for AFSCME, said the rally was meant to show support for the workers who are having their pension benefits and wages cut in Southern California.
"In a real tangible way, the cornerstone of the American dream is a chance to retire with a good pension with dignity or a fair living wage so you can raise your family," Noonan said.
The rally ended shortly after 4 p.m.
[Source]: L.A. Times