Take Back UC coalition demands pension reform, better hospital staffing
---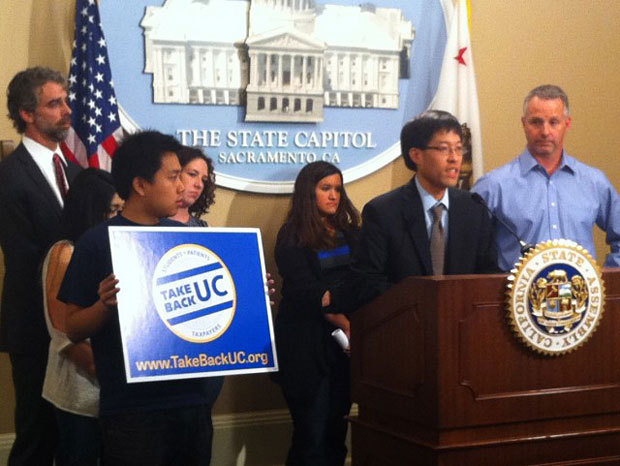 BY KRISTEN TAKETA
UC union workers, students and two state legislators gathered at the state Capitol earlier this week to announce an activist coalition that calls for less pension for UC executives and better staffing at UC hospitals.
Members of the coalition, Take Back UC, called for reform in UC management because they said students pay high tuition and UC workers have to pay more toward their pension plans.
The coalition was founded by the American Federation of State, County and Municipal Employees more than a month and a half ago, but now includes individuals as varied as students, alumni, teachers and healthcare professionals.
The group's demands for pension reform and opposition to UC executive compensation largely stem from the University's recent move to increase pension costs by 1.5 percent for all UC employees hired before July 1.
The University also increased its own contribution to pension plans for these employees by 2 percent at the same time.
Members of the coalition marched on Wednesday, the one-year anniversary of the passage of Proposition 30, which increased sales taxes and income taxes on those with higher incomes and prevented millions in funding cuts to the UC.
The coalition argues that voters deserve a more accessible and affordable education after approving this increase in their taxes, said state Assemblyman Richard Pan (D-Sacramento), one of the two legislators who joined Take Back UC on Wednesday.
Thousands of Californians have expressed support for Take Back UC, according to Todd Stenhouse, spokesman for Take Back UC and the American Federation of State, County and Municipal Employees Local 3299 union. The union represents about 20,000 UC workers.
"Take Back UC is a platform through which everyday Californians can learn the facts and take definitive actions to help address problematic management we've seen in the past," Stenhouse said. "We ask students to pay more to go to school, and yet we are shelling out six-figure pensions to highest-paid administrators.
Pan and state Sen. Anthony Cannella (R-Ceres) said they joined Take Back UC because they were concerned about the way UC executives were governing the University, particularly whether the executives were keeping the University affordable for all Californians.
Cannella said he supports the coalition because college tuition has risen in recent years and he supports pension reform.
"We are going to do everything we can to make the UC system affordable to our kids," Cannella said. "Taxpayers are the ones who built the UC system and we need to protect our investment."
In response to Take Back UC's allegations that University executives mismanaged their funds, UC spokeswoman Dianne Klein said the UC restructured $2.39 billion of its debt in bond offers after enduring five years of hundreds of millions in state funding cuts.
The University kept tuition at the same level for the past two years and may also extend the tuition freeze for another year, Klein added.
"To me, (the UC's actions do) not sound fiscally irresponsible," Klein said. "I think that (Take Back UC's) assertions lack context and at best (are) blatant distortions and mischaracterizations of fact."
Klein added that all UC employees receive pension based on the same formula, which calculates pension based off of the employee's years of service, age and salary.
Contributing reports by Bailey Monte and Alex Torpey, Bruin contributors.
[Source]: Daily Bruin