Subcontracted campus workers insourced as UC employees, ending speakers' boycott
---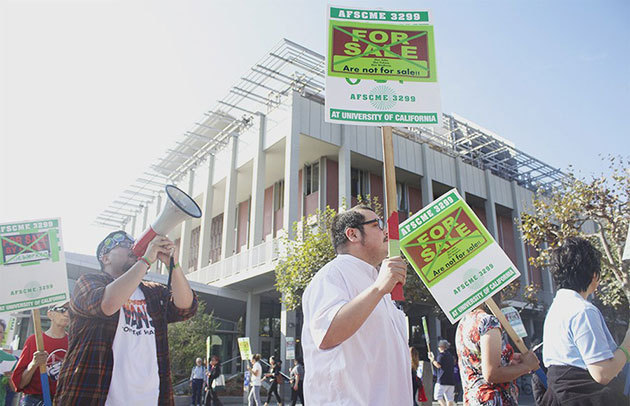 By Adrienne Shih
After nearly seven months of campaigning, 69 previously subcontracted workers have officially been insourced as UC employees, ending an ongoing campus speakers' boycott.
The workers — employed by ABM, PerformanceFirst and LAZ Parking — were previously a part of the University of California's two-tier employment policy.
The campus employs some individuals directly, or in-house, while others who do temporary or seasonal work are employed as subcontracted workers, receiving reduced pay and fewer benefits than their directly employed counterparts.
UC labor union AFSCME Local 3299, along with the campus' Student Labor Committee, has upheld a campus speakers' boycott in support of subcontracted workers, most notably protesting campus speakers such as Alphabet Inc. executive chair Eric Schmidt and Salesforce.com CEO and founder Marc Benioff.
Action in support of the speakers' boycott has stemmed from both campus and city entities in the past month.
For the full article, click on the link below.
[Source]: Daily Californian