Hundreds rally outside UCI Medical Center to protest 175 layoffs [Video]
---
By COURTNEY PERKES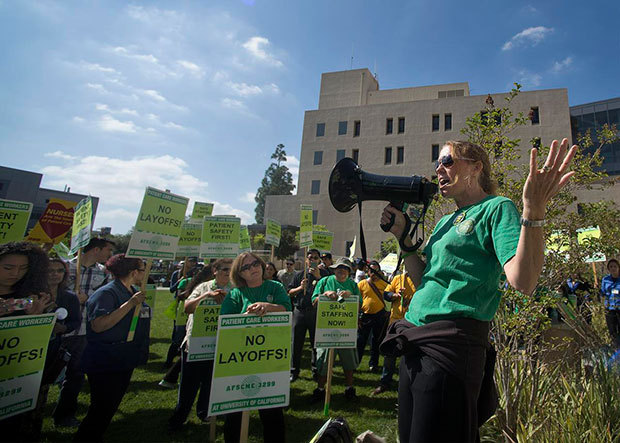 ORANGE – About 200 union members and supporters picketed UC Irvine Medical Center Tuesday afternoon to decry the loss of 175 health care jobs.
The protesters, some wearing medical scrubs or union T-shirts, carried signs and chanted, "UC, UC, you're no good. Treat your workers like you should."
Berenice Ramirez, a secretary in the surgical department, used her lunch break to march with her union, American Federation of State, County and Municipal Employees, Local 3299. Ramirez, 27, found out earlier this month that she's losing her job Nov. 7.
"I don't really know if this will give us our jobs back, but at least I said something," said Ramirez, who also goes to school full time. "I love my job. I'm working here because I want to become a surgeon."
Kathryn Lybarger, union president, said 68 members received layoff notices two weeks ago, including employees who admit patients, transport them and work as nursing assistants.
"They should actually be adding more frontline staff," Lybarger said. "We're here today to let UCI know we will not stop fighting them until every UCI employee has a job again at UCI."
The layoffs, which amount to 3.5 percent of the workforce, are being done to avoid exceeding operating revenue, according to UCI. University spokesman John Murray said the hospital sought to keep positions that provided bedside care. He said about a quarter of the job cuts were in management.
For the full article, click on the link below.
[Source]: OC Register