Healthcare Negotiations Update
---
Bargaining Update #1 – Nov 17, 2010
Open enrollment ends November 23, 2010!
UC has proposed major healthcare premium increases for employees on HealthNet. Under UC's proposal, some employees would see a $1,900 increase in their annual premiums. Many members have switched from HealthNet to HealthNet "Blue and Gold" or to Kaiser. Others are concerned that they do not have good healthcare options to switch to and are forced to stay with HealthNet.
As of today, UC has not agreed to extend open enrollment, so AFSCME members should decide their healthcare plan before open enrollment ends on November 23.
The premium increase for HealthNet is due to increases in what some health providers charge. HealthNet Blue and Gold has roughly 65% of the HealthNet providers, but is much less expensive.
A bargaining team of AFSCME members met with University representatives to discuss healthcare. The AFSCME bargaining team put forth a reasonable proposal to provide extra time and resources for employees to make informed decisions on healthcare. UC refused even this!
This means that we continue negotiations to find a fair agreement. HealthNet premiums will remain the same until negotiations are complete. We must stay united to protect our healthcare, pension, and wages!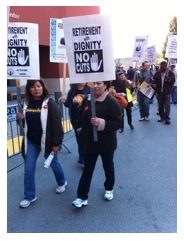 Hundreds of Workers and Student Descend on UC Regents Meeting!
UC Regents held a meeting at UCSF today – hundreds of workers and students came together to speak out against wage and retirement cuts and student fee hikes.
UC executives are trying to force a minimum 7% pay cut for the pension, tripling retiree healthcare costs, and creating a two-tier pension system that attacks retirement benefits for new workers. At the same time UC executives have gotten millions in executive bonuses!
Soon we will be back at the bargaining table over our wages and our benefits! We must demand retirement with dignity!
Related Posts