Berkeley Hires; Speaker Boycott Ends
---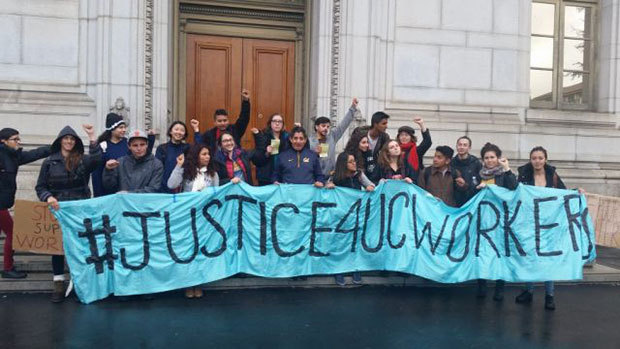 After university agrees to extend offers to subcontracted workers, largest employee union at UC Berkeley retracts call for speakers to boycott the campus.

By Josh Logue
The University of California at Berkeley said Friday it will extend job offers to 69 subcontracted employees after the university system's largest union last month urged speakers scheduled to appear at Berkeley to boycott the campus.
AFSCME Local 3299, which represents more than 22,000 employees on the University of California's 10 campuses, called in early February for a "Speaker's Boycott" until Berkeley agreed to directly hire custodians and parking attendants who were contracted to work on campus through three different companies: PerformanceFirst, ABM and Laz Parking.
Those workers, the union said in a release, "have a combined 440 years of experience working at UC. They are neither temporary nor seasonal. Most are immigrants and people of color, and they perform the same job duties as directly employed UC workers, but for a fraction of the pay and few (if any) benefits."
Berkeley announced Friday that an agreement had been reached with the union to end the boycott. The university says it will offer jobs to "all regular night shift and athletics custodians who presently do this work through private contractors … [and] all campus stack parking attendants who are currently contracted through Laz Parking." Additionally, Berkeley said it would offer full-time employment to another 24 custodians who have temporary positions there.
"While the campus has been working on a plan to in-source the custodial night shift since last summer, this agreement builds on the plan and streamlines the hiring process," the university said in a press release Friday. "This is part of the university's broader efforts to support fair wages for employees who work on campus."
The university is still in the process of determining how much the agreement will cost, Janet Gilmore, a university spokeswoman, said in an email. She cited a number of still-uncertain factors, including the fact "that not everyone offered a new job will take it."
The union agreed to end the boycott and inform scheduled speakers that it no longer objects to their visiting campus.
When it called for a boycott in early February, the union also reached out to "dozens" of speakers with events scheduled on campus and asked them to honor the boycott, said Todd Stenhouse, a spokesman for the union.
For the full article, click on the link below.
[Source]: Inside Higher Ed