ASUCD Passes Private Prison Divestment Resolution
---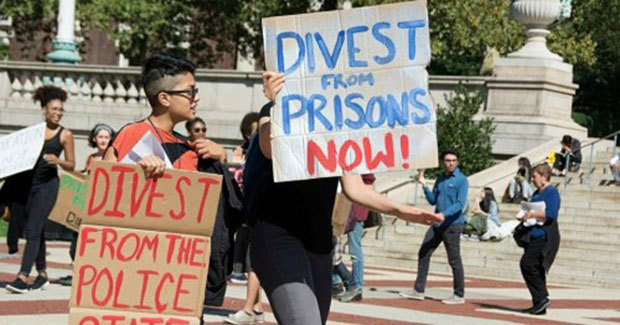 By Jerika L.H.
A groundbreaking bill which calls for the divestment of private prisons from all UC dealings was passed by the ASUCD on February 25 at the behest of several campus activists.
The measure (SR#14) is described as "a resolution urging both the Board of Regents of the University of California (UC Regents) and the ASUCD to undertake practices of corporate social responsibility by divesting in corporations which are directly and indirectly involved in the private prison industry."
The UC had previously agreed to divestment in December of 2015 after the Afrikan Black Coalition brought their $25 million investment in private prison corporations to light. The UC agreed to rectify this "ethical embarrassment" and divest all money by January 2016. Yet, January has come and gone and UC money still continues to trickle into private businesses which profit off of human incarceration.
Student Kyla Burke notes "They agreed to divest [from] the CCA and GEO group, but they still have $425 million in Wells Fargo, which is one of the largest funders of these companies. We want them to divest from all businesses that run private prisons, that invest in private prisons, or profit from private prison labor." This, along with ASUCD's "Divest from Israel" bill has been regarded by many as a huge accomplishment for human rights advancements, although not without its controversy and debate.
Burke cites the passing of the resolution as one of her proudest moments as an activist.
"When we first started thinking about prison divestment last year, it seemed like such a far off and unattainable goal. But here we are a year later, and tonight our divestment resolution passed ASUCD almost unanimously. There is still a lot of work to be done to make the regents actually divest from private prisons. But tonight was a really important step! If we are going to do this we need every campus to pass similar resolutions."
Currently, one out of every 100 Americans is in jail, which accounts for six million people. State legislators are able to cut costs by sending inmates to cheap, for-profit prison institutions that have notably bad rehabilitation efforts, substandard facility conditions and are significantly more violent than state institutions. In order for private prisons to make money, it requires a steady flow of individuals coming in. This main detail turns arrests and convictions into a quota, whereby longer sentences and the enlistment of more people off the streets as "criminals" turns the prison system into a capitalistic venture. In other words, when a person's future is destroyed by a disproportionately long sentence, private prisons make money.
For the full article, click on the link below.
[Source]: Davis Vanguard