Take Two Actions To Fight For A Secure Retirement
---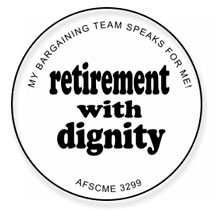 Bargaining Update #5 – April 25, 2011
Pension Bargaining Begins!
1: Wear your sticker on April 26
On April 26 show that you support secure, affordable retirement for all workers! April 26 is the first day of bargaining on pension contributions. We pay 2% now and UC wants 1.5% this year and 1.5% next year (total of 5% by July 2012). Wearing a sticker shows that we are united for
2: Stop UC Regent David Crane from cutting pensions and taking away your right to a fair contract!
Schwarzenegger appointed multi-millionaire investor David Crane to the UC Board of Regents. UC Regent Crane wants to cut workers' pensions and take away public workers' collective bargaining rights! Call the Senators who are responsible for appointments today and demand that Crane be removed from the UC Regents:
Sen. Darrell Steinberg
916-651-1529
Sen. Elaine Alquist
(916) 651-4013
or (408) 286-8318
Sen. Kevin De Leon
(916) 651-4022
or (213) 612-9566
Sample message: "I am calling to encourage the Senator to immediately remove David Crane from the University of California Board of Regents. Crane is a multi-millionaire investor who is out of touch with the needs of students and workers."
WHY IS OUR RAISE ON HOLD?

UC proposed increases in pension contributions and healthcare premiums. UC decided to put our raises on the table. Even if we agreed to UC's demands, UC is insisting that they can hold onto our raises by proposing changes to other things such as pension benefit changes. UC is engaging in unfair bargaining.

We must show UC that holding our raises hostage will not work! We demand that UC bargain fairly and lock in our raises – NO EXCEPTIONS.

WHAT IS NEXT?

Thousands of AFSCME members filled out bargaining surveys. The official survey results will come out in the next bulletin. What is clear is that AFSCME members are ready to do what it takes to protect our retirement benefits.

Mark Your Calendar:
May 12 – Statewide Picket
Related Posts