Picket Draws over 1,500 throughout UC system!
---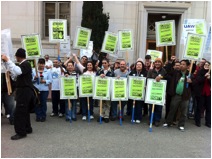 Bargaining Update #4 – March 21, 2011
Over 1,500 workers and supporters rallied throughout the state on March 16 to demand that UC executives stop trying to balance the budget on the backs of students, patients, and workers.
UC has spent $6.5 million in executive increases since March 2010. At the same time UC executives are using the economic downturn to justify permanent cuts to our benefits. UC executives are also trying to weaken the union so that they can get even bigger cuts in the future.
UC proposes big overhaul of benefits and wages! UC Regents voted to cut our employees' pay by a minimum of 7% for the pension, increase our retiree healthcare premiums by over 200%, and divide our union by creating a two-tier pension plan. On top of that, UC has proposed major increases in how much we pay for our healthcare.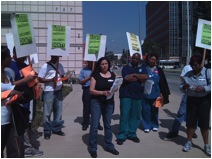 These cuts would hurt staff recruitment and retention and would devastate low wage workers who are hanging by a thread financially.
What do you care most about?
The AFSCME bargaining team is currently in confidential mediation with UC representatives on healthcare increases. Soon we will be bargaining over much more. Make sure your voice is heard by filling out your bargaining survey!
Related Posts