What's $25/5%? 
25/5 is our latest fight for UC workers! Workers at UC are struggling to get by. Like most of us, the 15% inflation since the start of the pandemic has severely impacted our lives. It's getting harder to get by. 
UC knows this.
This month, April,  the UC Board of Regents approved "market-based salary adjustments" for all University Chancellors, including a minimum salary of  $521,896 or $250 per hour, plus a 4.5% wage increase.
This year alone, 2023, UC Regents approved another 4.6% wage increase, UCSD Chancellor Khosla will receive a $500,000 raise to a total of $1,141,324 on his annual base salary starting on May 1st, and Chancellors, who already make an average $320 per hour AND get free on-campus housing, will now get financing assistance to buy themselves homes.
Over the last two years, the average base pay of the University's senior management increased by 12%. 
Yet the workers who RUN UC are barely getting by. The University has not brought the wages of its lowest paid and most vulnerable workers in line with the Consumer Price Index, or to rates that make housing and other basic needs within reach, leading to poor housing conditions, long commutes, high debt, food insecurity, and homelessness of UC employees.
That's why we're demanding UC demonstrate leadership by increasing the minimum wage across the entire UC to $25 per hour, or at least give a well-deserved 5% increase in their pay rates (and step structures) for those represented by 3299 and who already make $25+.   They can afford it. 
We deserve a raise too. We deserve more. We are worth more. We will fight for it until we win!
We're Taking Action: Join us!
May 17, 2023 | Locations & Times Below
In Their Own Words:
3299 Members on why they fight for $25/5%
25/5% | Erasmo Garcia Maintains Hope For Quality Family Time Instead Of 2 Jobs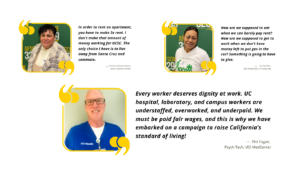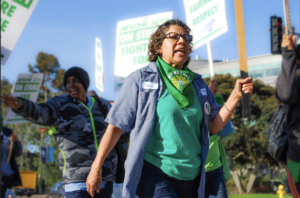 Rosa Hernandez Seeks to Make the UC Work for Her
Ready to Fight For $25/5%!