WHM | The Power Is Not in The Makeup, It's In Her Union
---
Monica was standing in front of the pharmacist in disbelief–she couldn't afford to pay for her son's medication. She looked down at her baby who was clearly in pain and knew she had to ask for help. "It was embarrassing. We had to call my son's grandparents and ask for $68 to cover the cost. Mind you, that was back in the early 2000s. I think that medication now is about $200 or so, but still, it was a lot of money back then for a mom working retail," she says. Not long after that, she found out she was pregnant and it was then that she decided to look for a job that offered healthcare.
"At the time, UCI was hiring for multiple positions so I applied to them all. I just really wanted access to a good healthcare plan so that I could protect my kids."  The job was offered to her and it wasn't long before someone approached her about the union. "This was my first union job, but I quickly noticed that UC was like any other big corporation or institution. They didn't provide us the good benefits just because. I noticed it was the union that protected and won us the benefits." A natural-born leader, Monica got involved in her union.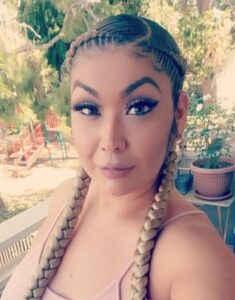 It was in her involvement that she found the community, support, and inspiration to flourish into the strong and community-centered woman she is today. "When I met Liz Ortega (who at the time was 3299's Political Director) and (at the time Assemblywoman) Lorena Gonzalez-Fletcher through my Political Action Committee work, I saw myself in them and realized I could also be a leader." Monica goes on to express the inspiration of seeing two women wearing heels and red lipstick walking the halls of the Capitol with so much power and commanding presence.  "I'm so glad I met them. Having someone like Liz in my life really motivated me to take up space as a woman that wears makeup," she goes on to express that as women, we just need to respect each other and understand that a little lipstick or eyeliner does not remove any of our power. "I can still command respect and be taken seriously. All women are powerful and backhanded comments about appearance do not empower anyone."
From a simple active member to a MAT leader to now an Executive Board Officer and the Political Committee Chair, Monica is a pillar of Leadership in our union.  "This is a lifestyle for us. My house is union through and through. Some parents took their kids to the park to connect with other kids. I took mine to the picket line to stand in solidarity and connect with their community. And I'm very proud of my kids who continue to uphold those values of community and respect." As her eldest now gears up to hit the workforce she makes sure to tell him, "make sure it's union. It's now this generation's turn to protect middle-class jobs and the only way to do it is through organizing," she says, "and by the way the future is looking, there's no way our kids can sustain life without a union. Corporations are just getting more greedy. The only way to keep middle-class jobs is by keeping unions alive. That's how our kids can have a shot at a good life."
Monica De Leon is a Hospital Unit Service Coordinator (HUSC) III for UC Irvine Medical Center. She's a proud mother of two brave children and a dedicated Executive Board Member of AFSCME Local 3299.