Joycelyn Shares Her Passion for Union Life
---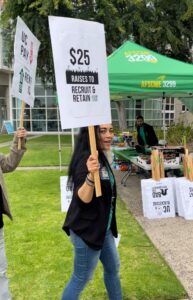 In the Nutrition Department at UCSD Hillcrest Medical Center, Joycelyn Atoigue is known for wearing a plumeria flower in her hair. It is her way of sharing the beauty of her native Guam with others. A new MAT Leader, she is as enthusiastic about where she is from as she is for caring for patients and representing her union siblings. "From my roots to my job to my union, I am able to share what I do in the kitchen and the union with many," she explains. Creating "an environment that you are passionate about" is what being in a union is all about for Joycelyn.
She loves her job, and our fight for $25/5% is, for her, how we build a better University of California. Joycelyn, who makes under $25 an hour, is very supportive of our demand for higher wages. "We all come to work for one purpose: to heal patients. We provide meals, a clean environment, and care," she points out, and "$25 an hour in this economy is not enough, but it is a jump. It will help my family tremendously." Patient care and service workers across the UC work hard everyday, according to Joycelyn, and "that is enough of a reason to make $25 an hour and for those at $25 to receive their 5% raise. It is our right to earn that.
Joycelyn is committed to seeing our fight through, and it is one of the main reasons she decided to become a MAT Leader, filling a four-year vacancy in her department. She wants to build power with her siblings "to create a better, safer, and more transparent department that follows safety guidelines and protocols."
Since starting her job at the medical center four years ago, she has been privy to our union's strength. Joycelyn recalls how we went on strike one week into her job at the medical center. That is when she started to learn more about the importance of being union strong. "I now make sure to educate new members and talk to them about what we have accomplished, and why it is important that we are involved in our union."
In Joycelyn's view, it is not hard to figure out what needs to change in our departments. She encourages fellow union siblings to use our voices and consider becoming MAT Leaders "to make what is not right, right." Joycelyn finds the "kindness and the friends you make" as an active union member fulfilling. "It is amazing," she says.
Joycelyn is a Food Service Worker. She lives in San Diego with her family.