For Agnes, our union is a protective shield
---
"Our union helped me when I was unfairly put on disciplinary leave in 2010," remembers Agnes Castro, a Custodian at UCSF Medical Center at Mount Zion. An investigation confirmed that there was no merit to a patient's complaint filed against her. When she returned to work, Agnes became an active member. "If my union helped me, then I will step up and help my coworkers too," she concluded. She has been protecting workers' rights as a MAT Leader ever since.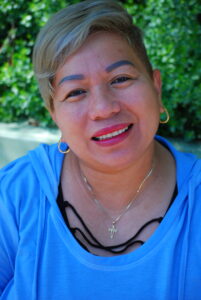 Empowered and union strong, Agnes is fearless at work. "There is no fair treatment at work, but if management knows you are active in the union, they are very careful. They know you know the policies. I am not scared to face these people to tell them that what they are doing is not right," she remarks.
In Agnes' view, our union is how we protect not only each other but also our family's well being. "We are talking about my life here. It's about my family. I am working to earn a living, and when I am protected, that protects my family," she explains. Working families, who are at the core of our union, are feeling financial hardship, and that is why we are fighting for affordability. "Management is blind to the reality we are all facing," asserts Agnes. "They need to give us raises," she adds, "because we are the backbone of the hospital. We have been working so hard during the pandemic."
Instead of adjusting all staff's salaries to the cost of living and acknowledging the toll that the pandemic has had on frontline workers, the University of California is focusing on all the wrong priorities."UC executives are the ones getting salary increases and living in nice, free housing, but we don't," she states. To make matters worse, UC is financially backing Blackstone, the largest landlord in the United States, with a $4.5 billion investment in BREIT, the company's real estate arm. Agnes wants UC to divest from the corporate landlord: "The Blackstone investment is not right. We don't want rent increases for ourselves or our neighbors. That is not fair." Her cause for concern is warranted. In the wake of the Great Recession and across the globe, Blackstone has been purchasing housing properties, raising rents, and evicting working families who cannot afford the company's rental prices. Their geographic focus in the United States has been primarily the Sunbelt, including UC cities. Our union, as Agnes illustrates, refuses to look the other way as UC uses billions from our pensions to grant Blackstone an open license to keep extracting profits from working families
Agnes sits on our Executive Board. She lives in Daly City.