FOR IMMEDIATE RELEASE: Friday, August 11, 2017
CONTACT: John de los Angeles, 650-438-1961, comms@afscme3299.org
Workers Recover $1.3 Million from University
UC Illegally Shortchanges Workers, DOL Awards Back Pay & Damages
(OAKLAND, CA) – The University of California (UC) will pay $1.3 million in back wages and damages after illegally shortchanging thousands of workers on overtime wages. The agreement comes after the US Department of Labor (DOL) conducted an investigation that found UC in violation of the Fair Labor Standards Act.
Click here to read the UC/DOL Settlement Agreement.
"Working people living check to check have been waiting nearly three years for UC to pay back these stolen overtime wages," says Kathryn Lybarger, President of AFSCME Local 3299. "We are grateful to the US Department of Labor for ensuring that workers are made whole and that the University is held accountable."
In 2011, UC launched an initiative to revamp their payroll system. The project, which is now $348 million over budget, underpaid workers from January 2014 to December 2016. Now, $746,746 in back wages and $616,011 in liquidated damages will be paid out to 13,721 UC employees. However, UC has excluded nearly $100,000 from the agreement for employees whose back wages are considered small amounts.
"This incident reflects a troubling trend with respect to the management of UC's resources," adds Lybarger. "The University has deep pockets when it comes to bloated executive bureaucracy, but suddenly has tight pockets when it comes to paying frontline workers the wages they've earned."
Earlier this year, State Auditor Elaine Howle uncovered a $175 million slush fund along with lavish spending by UC's Office of the President as it raised tuition and increased outsourcing of frontline service and patient care work. Similarly, UC has awarded ex-chancellors Nicholas Dirks and Linda Katehi alternative positions with handsome salaries even after stepping down for unethical behavior.
"UC's actions highlight a recurring pattern of prioritizing executive perks over student, patient, and worker needs," comments Lybarger. "Californians deserve better from their most prized public institutions."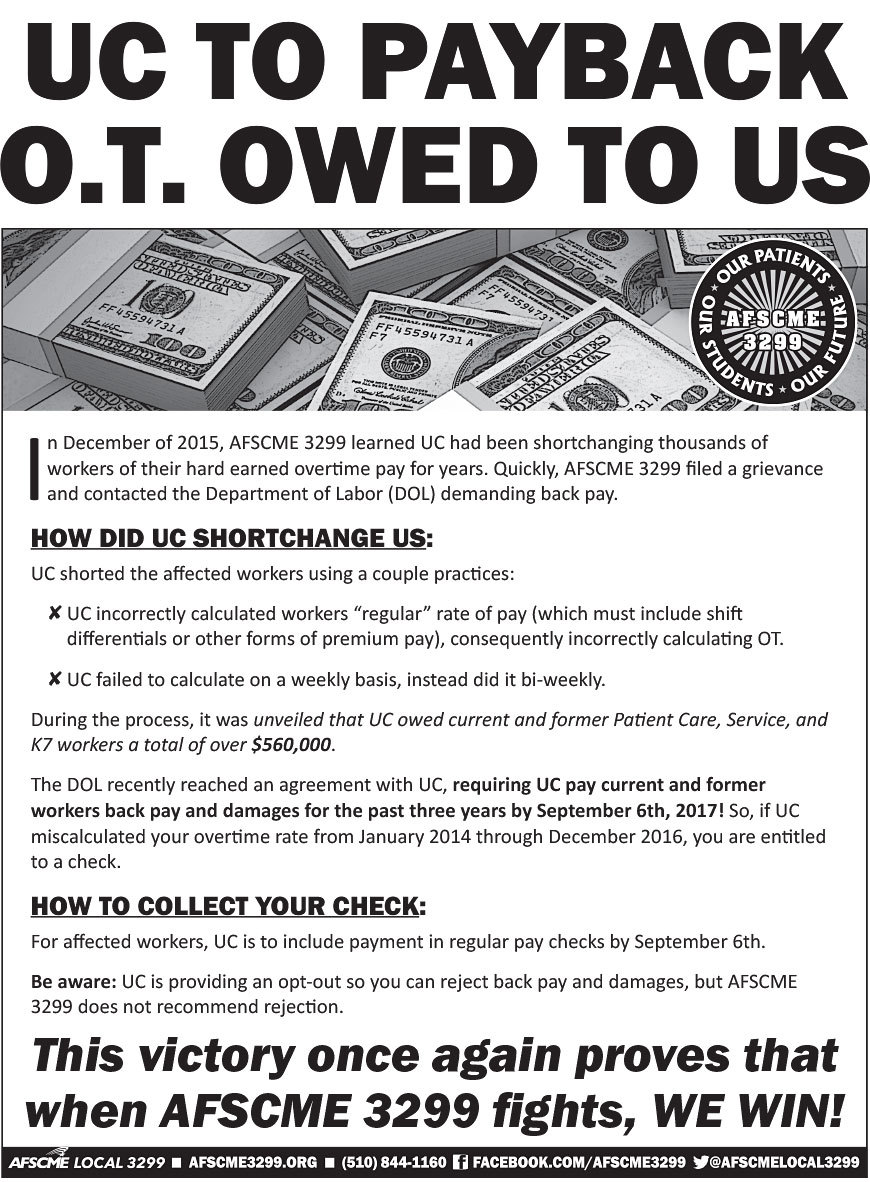 Last modified: October 20, 2017