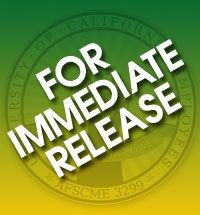 FOR IMMEDIATE RELEASE: August 7, 2015
CONTACT: Todd Stenhouse, (916) 397-1131, tstenhouse@afscme3299.org
STUDY: UC Contractors Growing Ranks of California's Working Poor
As UC grows, it is relying on private contractors who pay their employees as much as 53% less than career UC workers doing the same jobs.

Oakland: The University of California's continued reliance on private contractors is driving a growing number of UC workers—primarily immigrants and people of color—into poverty, according to new research by AFSCME Local 3299, the UC system's largest employee union.
The report, entitled " Working in the Shadows: How Outsourcing at the University of California Adds to the Ranks of California's Working Poor," examines both national and UC-specific employment trends through the eyes of UC's growing army of subcontracted workers. These workers do the same jobs as career UC employees, often for years on end, but for as much as 53% less pay with few, if any benefits.
Read the report, "Working in the Shadows," here.
The research notes that between 2009 and 2014, temporary and subcontracted employment relationships (also known as "contingent" labor) have grown at nine times the rate of traditional employment across America. And at UC, where enrollment grew by 9,000 and hundreds of new facilities came online during this period, the number of UC service workers actually decreased.
"It's sad to see that the structural changes in our economy that have proven to increase poverty and income inequality have taken root at a public institution that professes social mobility and ladders to the middle class," said AFSCME 3299 Research Director Claudia Preparata. "This research makes it clear that without a dramatic policy shift, the only thing likely to expand faster than UC campuses is the number of contingent UC workers living in poverty."
While UC refused to supply a complete list of its contracts and contractors, AFSCME has uncovered at least 45 contracts for custodial, grounds keeping, building maintenance, food service, parking and related services in its research, as well as a statewide RFP for contractors to work in the UC Health system. These contracts cover thousands of individuals who do the same jobs as career UC workers–but who are employed by private contractors for a fraction of the pay, few benefits, and no voice on the job.
Kin Wing Kwong, an immigrant from China who has worked as a subcontracted custodian at UCSF Medical Center (in addition to holding two other jobs) for as little as $10.74/hour (or 35% less than a career UC worker doing the same job) since 2012, is one of many workers profiled in the research who describe the hardships created by UC's subcontracting practices.
"Our baby needed to get a series of vaccinations recommended for 6-montholds. It would have cost us something like $300 or $500, but we…had no choice but to wait," Kwong recounts.
Far from "temporary," the research also documents multiple strategies employed by the university to retain contract workers for years on end—with permanent work stations, UC Supervisors, and no recourse for unsafe working conditions or mistreatment on the job.
One such worker recounted the day she was asked by a UC Davis Medical Center Supervisor to clean an area suspected of Ebola contamination.
"I didn't receive any training [on how to properly clean and decontaminate an Ebola-infected area], not even on the spot. It was really scary but all I could think about was holding on to my job."
A recent ProPublica study found that temporary workers are 50% more likely to get injured on the job.1 And a growing body of research and press reports has linked a variety of contractors to abuses ranging from wage theft to harassment of employees.2
"The problem here is not just the outsourcing—it's the shamefully low wage, benefit, and safety standards to which these contractors are held," said UC Student Association Board Chairman Kevin Sabo. "A first class university should not be allowing any of its workers to be treated as second class, yet that is precisely what is happening at UC."
Much of the existing research on the plight of California's temporary and subcontracted workforce has been produced by UC's own Labor Center at Berkeley.3 Among the findings from this prior research are that so called "temporary" workers "are twice as likely…to live in poverty, receive food stamps, and be on Medicaid."
"The University of California system shapes the lives and future of California's citizens and its economy," said Eli Moore, Program Manager for UC Berkeley's Haas Institute for a Fair and Inclusive Society. "Given the public support it has enjoyed, its historic and continuing role serving the people of California and it's public mission, the university should ensure that all people who work on its campuses earn a fair and equitable living wage."
The report concludes with calls for specific policy reforms, including less contracting out of work customarily performed by career UC employees and higher wage standards for UC Contractors, to ensure UC's growing army of subcontractors receive the same pay as career UC workers doing the same jobs.
State Senate Appropriations Committee Chairman Ricardo Lara (D-Bell Gardens) has introduced a measure, SB 376, to enshrine these very principles into law. He recently made the case for reform in a recent Sacramento Bee Op-Ed.4
"There is no reason that any public institution should be subsidizing business models built on a foundation of poverty and second-class treatment of communities of color. But it is happening, ironically, at the same institution that has been sounding alarms about the problem."
Lara's measure has already passed the State Senate and two Assembly Committees with bi-partisan support..
For its part, UC has recently enacted a minimum wage proposal that will apply to its contract workers, though it stopped short of guaranteeing equal pay for equal work and said that the proposal will not "supplant or minimize" its current contracting practices.5 However, consistent with the findings of "Working in the Shadows," the true scope of those practices remains far from clear. UC has been unable to specify the number of contract workers who would be impacted by its policy change, despite repeated inquiries from reporters.6
"UC's minimum wage proposal is a small step forward in that it acknowledges the university's complicity in creating poverty and enabling the exploitation of subcontracted workers of color," said AFSCME 3299 President Kathryn Lybarger. "But by reaffirming its intent to use private firms that profit by creating poverty for its permanent staffing needs and opposing legislation that would guarantee subcontracted workers equal pay for equal work, UC is not offering a solution—they are only perpetuating the problem."
---
1) http://www.propublica.org/article/temporary-work-lasting-harm.
2) http://ww2.kqed.org/news/2015/06/23/working-alone-at-night-janitors-risk-sexual-violence-rape-on-the-night-shift/; http://www.nytimes.com/2014/09/01/business/more-workers-are-claiming-wage-theft.html?_r=0; http://www.nbcnews.com/business/economy/wage-theft-costing-low-income-workers-billions-n212406
3) http://laborcenter.berkeley.edu/pdf/2012/temp_workers.pdf
4) http://www.sacbee.com/opinion/op-ed/soapbox/article22947264.html
5) http://www.dailycal.org/2015/07/22/uc-minimum-wage-will-rise-15-per-hour-2017/
6) http://www.morningjournal.com/business/20150722/higher-minimum-wage-proposals-gain-ground-on-both-coasts; http://www.sacbee.com/news/politics-government/capitol-alert/article28291927.html; http://www.latimes.com/local/lanow/la-me-ln-uc-minimum-wage-20150722-story.html
Last modified: August 7, 2015