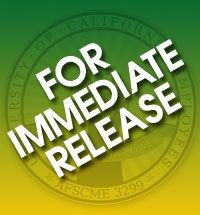 FOR IMMEDIATE RELEASE: January 28, 2015
CONTACT: Todd Stenhouse, (916) 397-1131, tstenhouse@afscme3299.org
Alex A.G. Shapiro, UC Hastings, 415-581-8842 shapiroa@uchastings.edu
"Good faith compromise on both sides" leads to labor peace.

San Francisco: After more than 18 months of bargaining, mediation, and post-mediation fact finding, UC Hastings College of the Law and AFSCME 3299 have reached a tentative contract agreement. 
 
The proposed agreement, which covers non-faculty service, clerical and professional staff at the San Francisco based law school, includes fair wage increases, secure benefits, and staffing protections through June of 2017.  It is subject to the ratification of the AFSCME 3299 membership and approval by the UC Hastings Board of Directors. 
 
In response to the proposed agreement, AFSCME 3299 and UC Hastings each released the following statements:
 
"This proposed agreement represents good faith compromise on both sides and honors the vital role our members play in making UC Hastings a world class law school," said AFSCME 3299 President Kathryn Lybarger. "Once ratified, we hope to build upon the foundation of respect and collaboration that has emerged from this process in order to realize our shared goals in the future." 
 
"My gratitude to all of the people who worked so hard to reach this agreement," said UC Hastings Chancellor & Dean Frank H. Wu. "Our faculty and staff are first class all the way, and good labor relations are essential to our success as an institution. I am glad we may all now look forward together and devote our energies on our number one shared goal: Creating outstanding professionals to solve 21st Century problems."
 
The AFSCME 3299 ratification vote on the proposed contract agreement will take place on Wednesday, January 28th.
 
AFSCME 3299 is the University of California's largest union, and represents more than 22,000 Service and Patient Care Technical Workers at the system's 10 campuses, five medical centers, numerous clinics, research laboratories and UC Hastings College of the Law. Visit us online at www.afscme3299.org, or on Facebook at www.facebook.com/afscme3299.
 
UC Hastings is an independent and standalone law school affiliated with the University of California. We are redefining legal education through our experiential, interdisciplinary, and international approach to the law. We integrate rigorous academics with hands-on practice, preparing our graduates to tackle the legal challenges—and leverage the opportunities—of the 21st century. UC Hastings. Made in San Francisco. Ready for the World.
Last modified: January 28, 2015