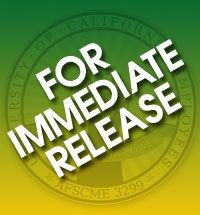 FOR IMMEDIATE RELEASE: March 23, 2014
CONTACT: Todd Stenhouse, (916) 397-1131, tstenhouse@afscme3299.org
ULP Strike Cancelled, Ratification Vote Scheduled for March 26-27
Oakland: In marathon bargaining sessions this weekend, AFSCME 3299 represented UC Patient Care Technical Workers have reached a tentative contract agreement with the University of California.
This week's planned ULP Strike at UC hospitals has been cancelled, and a ratification vote has been set for March 26-27.
The four-year agreement, which covers 13,000 Patient Care Technical Workers, includes union priorities of fair wage increases, secure benefits, and staffing protections, as well as the University's top priority of pension reform.
In reaching the agreement—which once ratified, will replace the terms imposed on Patient Care workers last summer-the University also withdrew its 11th hour demands for sweeping new layoff powers, known as "emergency" call offs. These issues had prompted the Public Employment Relations Board to issue Unfair Labor Practice complaints against UC, and brought AFSCME 3299 represented Patient Care workers to the brink of a five day ULP strike this coming week.
In response to the agreement, AFSCME 3299 President Kathryn Lybarger has issued the following statement:
"This weekend, the University returned to the bargaining table in a spirit of good faith, and we were able to not only avert a strike—but to reach a tentative contract agreement that 13,000 University Patient Care Technical Workers have sought for nearly two years.
This proposed agreement reflects compromise on both sides, improves safety in UC Hospitals, and honors the important contributions that Patient Care Technical Workers make to the UC Health system every day. Our members are looking forward to ratifying this agreement, returning to work, and doing what they do best—caring for patients.
Moving forward, Local 3299 will continue working with University Administrators to enforce and build on the recent agreements we have secured both for Service and Patient Care Workers. While we don't expect to always agree, we hope UC will join us in working to begin a new era of cooperation, rooted in constructive dialogue and finding common solutions to benefit the patients, students and communities we serve."
Last modified: March 23, 2014