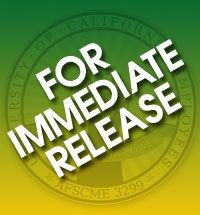 FOR IMMEDIATE RELEASE: November 18, 2013
CONTACT: Todd Stenhouse, tstenhouse@afscme3299.org,
(916) 397-1131
SACRAMENTO: Over the weekend, the Public Employment Relations Board (PERB) affirmed AFSCME 3299's Right to engage in a ULP Strike at UC Campuses and Medical Centers this Wednesday, and agreed with AFSCME 3299's decision to voluntarily exempt nearly 50 of its Patient Care Technical Workers from Strike Activity. An e-mail from PERB's General Counsel announcing the determination, reads in part:
"The Board has voted to DENY IR Request No. 647 (UPC No. SF-CO-191-H), and to GRANT IR Request No. 646 (UPC No. SF-CO-190-H), in part-i.e., only as to the Patient Care Technical employees listed in the chart attached to the Strike Notice that was issued by AFSCME on November 8, 2013."
Read a copy of AFSCME's Strike Notice Here: http://action.afscme.org/c/399/images/AFSCME-3299-EX-SX-ULP-strike-notice-11-20-13.pdf
Earlier today, the University of California issued a misleading statement regarding PERB's actions.
"The statements made by UC are utterly dishonest and are intended to deceive the media and general public. It's clear that UC is taking desperate measures to intimidate employees from participating in this strike—which only highlights the importance of standing up to UC's serial law breaking," said Kathryn Lybarger, President of AFSCME 3299. "PERB is not siding with UC, but is standing with AFSCME 3299's responsible plan to protect UC patients during our planned ULP Strike on Wednesday. Given UC's history of illegal bullying and misinformation campaigns in an effort to mask the chronic understaffing of its medical facilities, I'm saddened, but not surprised to see them continue down this path."
On Wednesday, as was the case with the strike in May, dozens of critical care workers will be exempted to ensure critical medical needs are met. Additionally, AFSCME 3299's Patient Protection Task Force will be active with direct lines of communication between medical facilities and frontline patient care workers, should any medical emergencies arise. This task force was also in place during the May strike, and operated seamlessly. PERB also issued a ruling that agreed with AFSCME 3299's patient protection plans prior the May Strike, and a Sacramento Superior Court Judge concurred.
Last modified: November 18, 2013