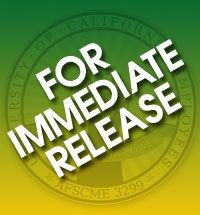 FOR IMMEDIATE RELEASE: June 6, 2013
CONTACT: Todd Stenhouse, tstenhouse@afscme3299.org,
(916) 397-1131
UC Medical Centers Face New Scrutiny from State Lawmakers
Joint Legislative Committee Votes to Audit UC Medical Center Finances and Staffing Levels; Senate Health Committee Holds Hearing on UC's Readiness for Affordable Care Act
Sacramento: In separate hearings at the State Capitol yesterday, the Joint Legislative Audit Committee voted overwhelmingly to launch an audit of UC Medical Center Finances and Staffing Levels, and the State Senate Health Committee held an inquiry into the UC Medical System's readiness for implementation of the Affordable Care Act next year.
"We are pleased to see lawmakers providing more oversight of taxpayer subsidized UC Medical Centers," said AFSCME 3299 President Kathryn Lybarger. "Our members see the human cost of UC's chronic under staffing, diversion of vital resources away from frontline care, and single minded focus on profits every day. It is time for UC to get its priorities straight and to stop shortchanging the communities that these institutions were intended to serve. Sunshine is the best disinfectant."
The Audit, which was requested by Committee Chairman Adam Gray, was approved in a unanimous, bi-partisan vote, and is set to focus on 2009-2012 finances at the UC's two most profitable hospitals–UCLA and UCSF Medical Centers. With the state currently considering new investments in additional UC Medical Facilities, the audit will look at issues ranging from staffing levels and executive compensation, to the amount of revenues devoted to charity care for low income patients.

Read Chairman Gray's Letter to the Audit Committee Here: https://afscme3299.org/documents/politics/UCAuditRequestLetter.pdf
In a separate hearing convened yesterday by State Senate Health Committee Chairman Ed Hernandez, lawmakers heard testimony from UC's Sr. VP of Health Services John Stobo, AFSCME 3299 Research Director Claudia Preparata, and comments from more than a half dozen UC Patient Care Technical Workers to assess the system's readiness for implementation of the Affordable Care Act (also known as "Obamacare").
Read AFSCME 3299's Testimony before the Senate Health Committee Here: https://afscme3299.org/documents/politics/CP-Remarks-Final.pdf
Among those offering comments on behalf of AFSCME 3299 at the hearing were an MRI Technologist, Respiratory Therapist, Clinical Care Partner, Diagnostic Sonographer, and Radiological Technicians who relayed personal experiences with dangerously understaffed patient care areas—including the elimination of support staff needed in critical care units, the difficult choices providers are forced to make between patients, and how well connected "VIPs" are routinely given priority care at the expense of other patients.
"Dr. Stobo himself has acknowledged lagging patient satisfaction scores across the UC system, and UC's chronic understaffing and VIP culture are major contributors to this problem," said AFSCME 3299 Research Director Claudia Preparata. "Today, this carries a dangerous human cost—but next year, when Medicare and Medicaid reimbursement rates are tied to patient experience metrics under the Affordable Care Act, they will carry a financial cost as well. UC will be woefully unprepared for this new reality, so long as it encourages selective care and prioritizes profits and oversized executive entitlements over frontline care."
Last modified: June 6, 2013