Fight Back with PEOPLE
Flex your Political Muscle — Become an AFSCME PEOPLE MVP Today!
Request A PEOPLE Card Online – [ Click Here ]
Protecting our Raises, Retirement and Health Benefits
Some politicians have an agenda for UC workers: They want to destroy our pensions, cap our raises, and triple the cost of our health benefits. Others want to reduce our holidays, vacation days and contract out as many of our jobs as possible.
Sounds like a bad dream, but it's already happening to other state workers. UC workers are next on their hit list, and we'll be next if we don't fight back.
Fight back with the Power of PEOPLE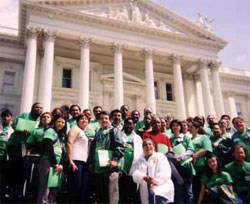 Our union has a special group of volunteers who belong to the PEOPLE program. PEOPLE volunteers are union members like you and me. Hundreds of UC employees have already signed-up to support the PEOPLE program.
Each month PEOPLE members contribute a few dollars that go for one purpose: to support politicians who support us – and go after the ones who oppose working families. People members also participate by registering people to vote and educating their co-workers about legislative issues affecting UC workers. PEOPLE is non-partisan.
How Does PEOPLE Help?
So far, PEOPLE funds have helped elect or re-elect politicians who have helped us to:
Stop UC from contracting out our Jobs
Stop UC from cutting critical services to our patients and students
Force UC to establish a fair workload with fair staffing levels
Establish a living wage for UC workers
Force UC to bring low wage, exploitative contract work in-house
Enact Fair Share, and
Secure funding for our pay raises.
These Politicians have spoken at our rallies, met with us in our workplaces, met with our Chancellors and Administrators on our behalf, and helped us settle our Union Contracts.
Why Now?
Attacks on UC workers, and their families are on the increase. Our pensions, our raises, and our jobs are at stake.
Join PEOPLE Today
For more information, request a PEOPLE card online, call your local AFSCME office or 1-888-856-3299