Membership
---
Download This Membership Flyer – [ English ] – [ En Español ]
---
Become a Member – [ Click Here ]
---

AFSCME 3299 is the University of California's largest union, representing more than 24,000 UC employees. We have won historic new contracts for UC Patient Care and Service workers—including substantial wage increases,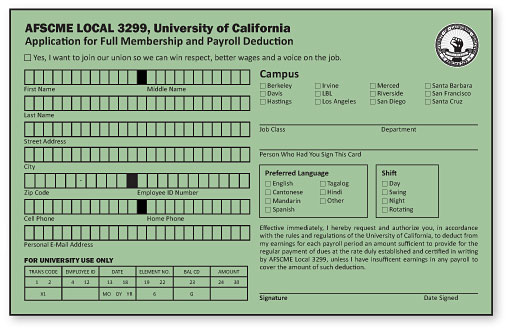 secure benefits and staffing protections. AFSCME 3299 gives UC workers a voice on the job, and in our union. Members elect our leadership, our bargaining team, can vote on whether to strike or ratify contracts, and enjoy many other benefits. You are Already Paying Dues, but you May not Be a Member: By State Law, all employees covered by union contracts are already paying dues. These dues (called "Fair Share Fees") cover the cost of bargaining new contracts and representation. But only workers who have filled out a GREEN MEMBERSHIP CARD are considered members.
BECOME A MEMBER = NO ADDITIONAL COST, BUT LOTS OF BENEFITS
Higher Wages and Better Benefits:  Higher rates of membership translates to higher wages, better benefits and better contracts. As AFSCME 3299's dues paying membership has grown by 81% over the last ten years, the wages of the EX, SX, and K7 bargaining unit workers we represent have grown by an average of 64%.
A VOICE in YOUR Union: Only AFSCME 3299 members can vote in union elections. These include the selection of our
Officers, Board Members and the Bargaining Team; as well as determining whether to strike or ratify contracts.
A Stronger Voice at UC: By becoming an AFSCME 3299 member, you will strengthen the voice of workers in building
a better UC. This includes not just winning great contracts, but enforcing what we've won at the workplace.
Scholarships, Discounts and Other Services: AFSCME members and their families have exclusive access to
scholarships; insurance, credit counseling and legal services; and discounts on wireless phone services, health clubs,
car rentals, restaurants, and many other products.