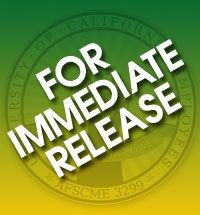 FOR IMMEDIATE RELEASE: November 17, 2016
CONTACT: Todd Stenhouse, (916) 397-1131, toddstenhouse@gmail.com
With Patient Load increasing, Health Workers, Students & Community Leaders to Demand Reversal of Staffing Cuts at UC Irvine Protest Today
Layoffs of nearly 200 hospital workers began taking effect November 7th
Orange: As many as 300 UC Health Workers, Students and community leaders are expected to picket and rally at UC Irvine Medical Center today to demand that UCI reverse its recently announced staffing cuts–cuts that have already eliminated as many as 175 jobs and led to reductions in work time for many others.  Thursday's protest comes as new data shows dramatic increases in demand from UCI patients, and marks the second major UCI Hospital protest in as many months–and the first since the layoffs took effect on November 7th.
Who: UCI Health Workers, Students, and Community Leaders, including:
AFSCME Local 3299 President Kathryn Lybarger
UC Patient Care Technical Unit Vice President Monica De Leon.
The Orange County Labor Federation
Taylor Chanes, EVP, UC Student Association
What: Protest and Rally AGAINST Layoffs at UC Irvine Medical Center
When: Thursday, November 17, 2016. Pickets from 1130am.-2 p.m. (Rally from 12:30-1 p.m)
Where: UC Irvine Medical Center, 101 The City Drive South, Orange, CA 92868 (Rally to take place at Healing Garden in front of main Hospital building)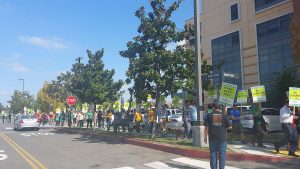 UC Irvine Health CEO Howard Federoff announced its job cuts back in October. The layoffs are impacting a variety of frontline patient care functions–including nurses, service coordinators and emergency trauma, psychiatry, radiology and other technical occupations.
Among the workers who have been displaced are frontline caregivers with as much as 30 years of experience, at UC and two pregnant women who are losing their UC sponsored health insurance just days before their expected delivery dates.
Just released data shows that UCI Health has posted more than $160 million in profits from operations over the last three years[i], with dramatic increases in patient admissions, outpatient visits, and average patient census[ii]. In a recent survey of more than 5,000 UC Service and Patient Care workers, 91% reported concerns about understaffing[iii]. Federoff will be paid nearly a million dollars this year, including six figure bonuses tied to pre-determined profit targets[v].
"For a public, tax-exempt medical system to put profits before patient care—particularly at a time of chronic understaffing and rising need from patients–is both appalling and dangerous," said Monica De Leon, a UC Irvine Hospital Unit Service Coordinator (HUSC) and Vice President of AFSCME 3299's Patient Care Bargaining Unit which represents many of the laid off workers. "These layoffs undermine our ability to deliver quality care to those who need it most, while lining the pockets of those who need it the least. That's why we are calling on UCI Health to get its priorities straight and put our colleagues back to work."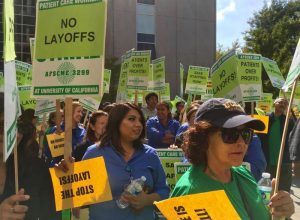 AFSCME Local 3299-represented UC Healthcare workers have expressed concern about dramatic growth in UCI Health's management staff, which grew at four times the rate of frontline care professionals between 2010 and 2014[iv].   And while UCI does have job openings, only a handful of its newly displaced workers have been placed into new jobs for which they are qualified so far.
"Beyond the livelihoods of workers and their families—this fight is about making sure that when a patient pushes the call button, someone answers," said Vanessa Garcia, a Cardiac Unit Service Coordinator who worked her last day on November 7th. "For three and a half years, that was a big part of my job and I want it back. We aren't going to turn our backs on the patients who need us and the remaining workers who are increasingly being stretched to the breaking point."
---
[i] http://regents.universityofcalifornia.edu/regmeet/nov16/f5attach3.pdf
[ii] Between 2014 and 2016, patient admissions at UCIMC have grown by 8%,  average daily census has grown by 15%, and outpatient visits have grown by 27%. The acuity of UCI Health's case mix is also increasing.  http://regents.universityofcalifornia.edu/regmeet/nov16/f5attach3.pdf
[iii] AFSCME Local 3299 systemwide survey of over 5,000 Service and Patient Care workers, Spring 2016. https://afscme3299.org/new-survey-results-reveal-staffing-crisis-at-uc/
[iv] AFSCME analysis of UC data requested by UCB professor emeritus Charles Schwartz. Available online through his blog post "Financing the University—Part 24: Management Bloat at UC – How Big is it? Where is it? Why is it?" (http://socrates.berkeley.edu/~schwrtz/Part_24.html). Health Science OSC:M10/M05 and SMG FTE's grew by 24%, while Professional support staff grew by just 6% .
[v] On Jan. 21, 2016, the Regent's approved UCI CEO and Vice Chancellor Howard Federoff's compensation plan. The approved plan includes a $800,000 base salary + a 20% ($160,000) Clinical Enterprise Management Recognition Plan (CEMRP) target award, for total expected cash compensation of $960,000
Last modified: November 17, 2016