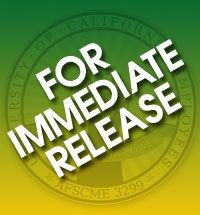 FOR IMMEDIATE RELEASE: April 28, 2016
CONTACT: Todd Stenhouse, (916) 397-1131, toddstenhouse@gmail.com

Oakland: In the wake of serious allegations of conflict of interest and misuse of university funds by UC Davis Chancellor Linda Katehi, Kathryn Lybarger, President of the UC System's largest employee union–AFSCME Local 3299–has issued the following statement.
"Sadly, Chancellor Katehi is not the first—nor is she the only—UC Administrator to engage in moonlighting activities that invite questions about conflicts of interest and squandered scarce university resources on inappropriate or misguided priorities. The growing scandal involving Chancellor Katehi calls for much more than her immediate termination.  It demands a top to bottom, system-wide review of potential conflicts involving other university executives, and increased scrutiny of the top-heavy administrative bloat that is enriching UC elites and the well-connected at the expense of students, patients, frontline workers and the institution's core public mission."
It was announced late last night that Chancellor Katehi has been placed on "Paid Administrative Leave" for 90 days pending an investigation into numerous allegations of misconduct.
Last modified: April 28, 2016