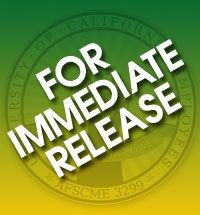 FOR IMMEDIATE RELEASE: September 22, 2014
CONTACT: Todd Stenhouse, (916) 397-1131, tstenhouse@afscme3299.org
SF Supervisors Campos and Mar to Join Workers for Solidarity Rally at 200 McCallister
San Francisco: UC Hastings College of the Law's largest employee union—AFSCME 3299—will picket and rally with local elected leaders on September 23rd at noon, after fifteen months of negotiations with college administrators have failed to produce a contract agreement.
Who: AFSCME 3299 Represented UC Hastings Workers; San Francisco Supervisor David Campos; San Francisco Supervisor Eric Mar; San Francisco Labor Council Executive Director Tim Paulson. 

What: Contract Impasse Picket and Rally 

When: Tuesday, September 23rd, 12:00p.m.-1:00 p.m. 

Where: UC Hastings College of Law, 200 McCallister, San Francisco
The dispute involves approximately 100 UC Hastings workers—including clerical, professional and administrative support staff who have been working without a contract since June of 2013. Of 28 issues up for negotiation at the start of bargaining, workers have agreed to Hastings' demands on 12—with seven others resolved through negotiations. The major remaining issues in dispute are wages, layoffs, and subcontracting.
"Despite projected budget surpluses through 2017, an increase in state funding that is nearly triple what was received by UC's other institutions, and major concessions from our union on most of the issues up for negotiation, UC Hastings has illegally imposed pay cuts on our members and demanded they accept a fraction of the wage increases and staffing protections already granted to other UC workers," said AFSCME 3299 President Kathryn Lybarger. "Our members devote their lives to making Hastings a first class law school—and that's why they will not accept a second class contract."
The Public Employment Relations Board, which has already issued a formal complaint against UC Hastings Administration for illegally imposing contract terms amounting to pay cuts and failing to bargain in good faith, declared the two sides at impasse earlier this month.
Read PERB's Complaint against UC Hastings Administration Here. 
The two sides will convene with a mediator in the coming weeks as part of post-impasse proceedings.
Last modified: September 22, 2014