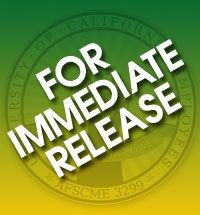 FOR IMMEDIATE RELEASE: November 19, 2013
CONTACT: Todd Stenhouse, (916) 397-1131, tstenhouse@afscme3299.org
BREAKING–**Lybarger Responds to Duckett's invitation to Bargain**

SACRAMENTO: Earlier today, a Sacramento Superior Court Judge affirmed the recommendations of both AFSCME 3299 and the Public Employment Relations Board, and threw out the University of California's attempts to block AFSCME's planned Unfair Labor Practice Strike, scheduled for this Wednesday.
Over the weekend, the Public Employment Relations Board (PERB) had affirmed AFSCME 3299's Right to engage in a ULP Strike at UC Campuses and Medical Centers this Wednesday, and supported AFSCME 3299's request to voluntarily enjoin nearly 50 of its Patient Care Technical Workers from Strike Activity. In an e-mail announcing its determination, PERB's general counsel said:
"The Board has voted to DENY IR Request No. 647 (UPC No. SF-CO-191-H), and to GRANT IR Request No. 646 (UPC No. SF-CO-190-H), in part-i.e., only as to the Patient Care Technical employees listed in the chart attached to the Strike Notice that was issued by AFSCME on November 8, 2013."
PERB's determination was a 100% agreement with the terms of of AFSCME's Strike Notice, which was issued on November 8th:
http://action.afscme.org/c/399/images/AFSCME-3299-EX-SX-ULP-strike-notice-11-20-13.pdf
"For the second time in five months, both PERB and the courts have sided with AFSCME 3299 in affirming the right of our members to strike, and validated the responsible approach we have taken in exercising these rights," said AFSCME 3299 President Kathryn Lybarger. "Tomorrow, workers from across the UC system will stand up to UC's illegal harassment against those who advocate for the safety of the patients and students we serve. It is our hope that UC will take the court's rejection of its efforts to silence workers together with the Public Employment Relations Board's recent complaint outlining UC's illegal intimidation of workers—to stop its serial law breaking and finally take seriously the staffing crisis that is putting workers, patients and students at risk, both on campus and inside UC hospitals."
In addition, AFSCME 3299 President Kathryn Lybarger has issued a response to UC VP of Labor Relations Dwaine Duckett's invitation to bargain today, noting that UC has already cancelled four proposed bargaining dates this month, including two last week. "We are available today and every day this week," Lybarger wrote while reminding Mr. Duckett that tomorrow's strike is "not related to bargaining," but the "unlawful intimidation of members who stood up for patient safety in May." Read the full text of Lybarger's letter to Duckett here: http://action.afscme.org/c/399/images/Duckett%2011.19.13.pdf

As a result of the Court and PERB's determinations, AFSCME 3299's ULP Strike will go on, as planned tomorrow at 9 Campuses and all Five UC Medical Centers:
https://afscme3299.org/2013/11/19/afscme-local-3299-announces-picket-locations-and-rally-times-for-november-20-ulp-strike/
During Wednesday's work stoppage, as was the case with the strike in May, dozens of critical care workers represented by AFSCME 3299 will report to work to ensure critical medical needs are met—as AFSCME requested in its November 8 Strike Notice. Additionally, AFSCME 3299's Patient Protection Task Force will be active with direct lines of communication between medical facilities and frontline patient care workers, should any medical emergencies arise. This task force was also in place during the May strike, and operated seamlessly.
PERB also issued a ruling that agreed with AFSCME 3299's patient protection plans prior the May Strike, and a Sacramento Superior Court Judge concurred.
Last modified: November 19, 2013