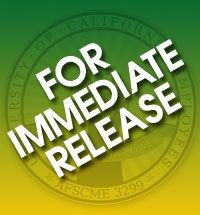 FOR IMMEDIATE RELEASE: November 8, 2013
CONTACT: Todd Stenhouse, tstenhouse@afscme3299.org,
(916) 397-1131
Despite PERB Complaint, UC continues to Illegally threaten and Coerce workers
Oakland: The University of California's largest union today gave UC Administrators notice that its members will participate in a one day Unfair Labor Practice Strike of UC Campuses and Medical Centers on November 20th. AFSCME 3299 Service and Patient Care workers will be joined on the picket lines by members of the California Nurses Association and UC Santa Cruz' Skilled Crafts Unit (K7—also represented by AFSCME 3299)—each of whom have authorized a sympathy strike and given notice to UC.
Read AFSCME 3299's Strike Notice letters here: https://afl.salsalabs.com/o/4002/c/399/images/ULPStrikeNotices.pdf

The Strike stems from a coordinated campaign of illegal intimidation, coercion, and threats against UC Patient Care and Service Workers who participated in a two day walkout back in May over unsafe staffing levels at taxpayer supported UC hospitals—which posted record profits just this week.
"I was pulled into a supply room and interrogated by my Supervisor while she blocked the door," recalled Tim Thrush, a Principal Diagnostic Sonographer at UC San Francisco Medical Center. "She was clearly trying to intimidate me and hide the fact that she was breaking the law. This is no way to treat people who are standing up for quality patient care, and it's exactly why we are going on Strike on November 20th."
The Public Employment Relations Board issued a formal complaint against UC for its illegal activity back in September.
Read PERB's complaint Here: https://afscme3299.org/documents/legal/PERB-COMPLAINT-9-12-13-UPC-SF-CE-1033-H.pdf
"Our members have both the legal right and moral responsibility to stand up for the safety of the students and patients we serve," said AFSCME 3299 President Kathryn Lybarger. "By attempting to silence workers, UC hasn't just repeatedly broken the law—it has willfully endangered all who come to UC to learn, to heal, and to build a better life for their families."
Lybarger added that UC's efforts to intimidate and silence workers continues to this day: "Our members—to say nothing of the people we serve–deserve a workplace that is free of this kind of blatant bullying. Without it, the entire UC community is at risk."
Locations and times of picket lines—which will include all five UC Medical Centers and all 10 UC Campuses, will be announced next week.
As was the case during its May Hospital Strike, AFSCME 3299 has once again committed itself to patient protection measures, including the formation of a Patient Protection Task Force to handle emergency needs at UC Medical Centers during the work stoppage, and voluntarily exempting dozens of the critical care hospital workers it represents from participation in the strike.
Last modified: November 8, 2013