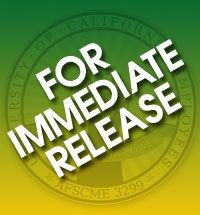 FOR IMMEDIATE RELEASE: September 17, 2013
CONTACT: Todd Stenhouse, tstenhouse@afscme3299.org,
(916) 397-1131
Complaint Details UC's Written and Verbal Threats That were Made Against AFSCME 3299 Members
Oakland: An Unfair Labor Practice Complaint issued by the California's Public Employment Relations Board alleges that University of California Administrators attempted to illegally threaten, intimidate, and marginalize thousands of UC Workers both before and during the Patient Care Technical Workers' first ever strike back in May.
Read the Complaint Here: https://afscme3299.org/documents/legal/PERB-COMPLAINT-9-12-13-UPC-SF-CE-1033-H.pdf
After nearly a year of negotiations, mediation and impasse procedures, 13,000 UC Patient Care Technical Workers — represented by AFSCME Local 3299 — called their first ever strike back in May over concerns about patient safety and staffing levels. The Strike lasted two days, with pickets at all five UC Medical Centers (Davis/Sacramento, San Francisco, Los Angeles, San Diego, and Irvine). Workers from two other units—UPTE CWA 9119, and UC Service workers represented by AFSCME 3299 — honored the Patient Care Workers' picket lines.
After threatening numerous employees with disciplinary action for exercising their collective bargaining rights, and refusing AFSCME's repeated offers of compromise on the Administration's core demand, UC imposed drastic cuts on the Patient Care Technical Unit back in July. Despite continuing patient safety problems that have resulted in more than a hundred thousand dollars in new government fines since the strike, UC's unilateral implementation included none of the safe staffing protections AFSCME members had requested.
As the Complaint makes clear, striking is a legally protected activity. In fact, the Patient Care Technical Worker strike—as well as the sympathy strike held by UC Service Workers and UPTE CWA 9119 — were specifically upheld by both the PERB and Sacramento Superior Court back in May. AFSCME 3299 also created a Patient Protection Task Force to ensure that UC hospitals would be equipped to handle emergency needs that came up during the work stoppage.
The Complaint details UC's tactics: threats, lies, interrogation and other illegal coercion to keep employees quiescent.
"UC Administrators have engaged in a coordinated campaign of bullying, intimidation, and illegal threats in order to preserve a status quo that puts at risk not just workers, but the patients and students they serve," said AFSCME 3299 President Kathryn Lybarger. "It's time for UC Executives to answer for their frontal assault on collective bargaining, and the growing pattern of mismanagement that is destroying this institution. No one is above the law."
PERB's Complaint against UC is akin to a civil indictment, meaning that the facts alleged constitute a violation of the law in the view of the State. A judge will hear evidence regarding the complaint at a hearing likely to be scheduled later this year. UC's initial written response to PERB admitted most of the relevant events, and many of the facts also come from UC's own documents.
Last modified: September 17, 2013