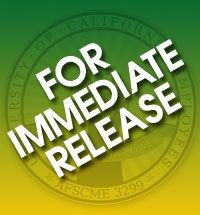 FOR IMMEDIATE RELEASE: May 7, 2013
CONTACT: Todd Stenhouse, tstenhouse@afscme3299.org,
(916) 397-1131
UC PATIENT CARE WORKERS VOTE TO STRIKE
Local 3299 President Says, "The Ball is In (UC's) Court"–Authorization Passes with 97% Support
Oakland: AFSCME 3299, which represents nearly 13,000 University of California Patient Care Technical Workers, announced today that its members have voted to authorize a strike with more than 97% support.
Thousands of votes were cast over a three day period last week at UC's five Medical Centers and at Student Health Centers across all ten UC Campuses.
"Our members take pride in their work, love the UC and stand united behind the principles of safe staffing and basic fairness for which we have bargained in good faith for almost a year," said AFSCME 3299 President Kathryn Lybarger. "This was a vote for our patients, our students and our families. And it was a resounding rejection of the UC's misguided priorities—chronic understaffing, reckless cost-cutting, skyrocketing management payroll, and exorbitant seven figure pensions for top executives."
The vote follows dozens of face to face bargaining sessions, post impasse mediation proceedings, and four days of testimony with an independent fact finder back in March—all of which have failed to produce agreement on a range of issues.
Earlier this year, Patient Care workers released a hard-hitting whistleblower report documenting the detrimental impact that new profit incentives are having on both patients and providers within the $6.9 billion UC Medical system. This was followed by the elimination of 300 jobs at UCSF Medical Center, a $1.2 million dollar whistleblower settlement charging patient neglect at UC Irvine, and UC VP of Health Service John Stobo admitting to lagging patient satisfaction across the UC Medical System at an event last Friday.
"UC has already given workers and patients a preview of what's to come if we don't stand up and demand change today," Lybarger added. "It was UC that decided to put profits before patient care and it is UC that has the power to stop this strike. The ball is in their court."
The dates and duration of a strike have yet to be finalized, though AFSCME 3299 can lawfully call a strike any day now. AFSCME 3299 has committed itself to patient protection measures, including providing 10-day notice of a strike, and formation of a Patient Protection Task Force.
UC Patient Care Technical Workers include Respiratory Therapists, Nursing Aides, MRI Technologists, Licensed Vocational Nurses, Surgical Technicians, Pharmacy Technicians, Security Guards, Hospitality workers, Hospital Assistants, and many others.
Last modified: May 7, 2013