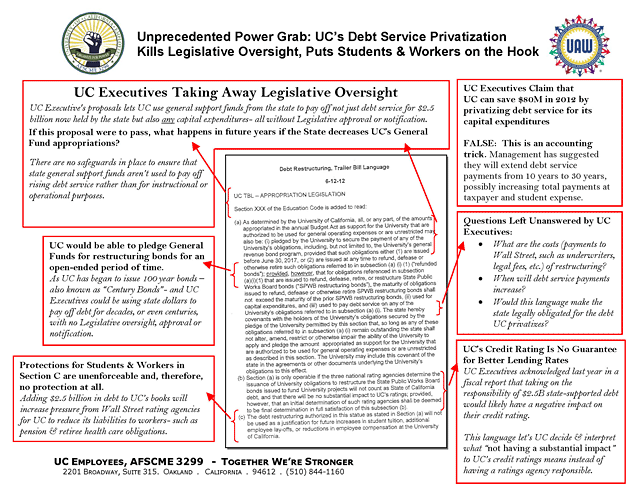 [ download document – PDF ]
Are you willing to have your future mortgaged for a hotel at UCLA?
Call Governor Jerry Brown's office today at (916) 445-2841
Ask him to "Say NO to UC's Debt Restructuring Privatization & New Tuition Hikes!"
Yesterday, University of California President Mark Yudof called on the people who care about UC and its promise to educate all of California's children to once again call their elected state officials and advocate on UC's behalf during the close of California's budget season.
While we stand with 99% of what President Yudof is asking, we need to tell you about his secret deal that would only benefit Wall Street and once again endanger Main Street.
Wrapped up in his five bullet point ask is his seemingly innocuous ask:
"Authority for UC to save $80 million by refinancing previously-sold State bonds."
What President Yudof doesn't tell you is that this seemingly innocuous ask would in fact strip away one of the only remaining avenues the public actually has to hold UC accountable with- Legislative oversight of UC. At the same time, this secret deal would put a $2.5 Billion debt burden onto the backs of workers and students.
Click here for more information about UC Wall Street Elite's secret debt privatization deal.
President Yudof wants a dangerous policy change that uses student tuition and operating funds to pay off debt for capital projects.
What this means is that the new hotel project UCLA wants to build would in effect be built for the first time ever by using state funds as collateral and by leveraging students' and workers' futures.
And that's just not fair! As Legislators and the Governor look to sign a budget deal today or tomorrow, time is of the essence to stop this bad deal from going through…
Call the Governor today at (916) 445-2841
"Say NO to UC's Debt Restructuring Privatization & New Tuition Hikes!"
(And if you have a Twitter account, let him know your thoughts @JerryBrownGov #notmywallet)
In solidarity,
Katrhyn Lybarger
Last modified: June 30, 2012